Randy Wright Presented Innovator Award by University Station Alliance
This story was edited from a press release by the University Station Alliance.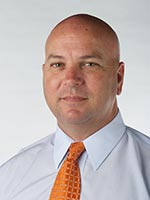 The University Station Alliance presented its 2015 USA Madison Hodges Innovator Award for Public Media Advancement to Randy Wright, executive director of CJC's Division of Media Properties, at its Super Regional Meeting in San Antonio, Texas on November 19, 2015.
Wright led an effort that impacted the state of Florida with a first-of-its-kind resource to help residents prepare for destructive storms and other emergencies. The Florida Public Radio Emergency Network (FPREN) this year launched Florida Storms, a free mobile weather application that offers a simple way to stay informed of potential weather and other hazards, backed by real-time credible information from the nearest Florida public radio station.
"I'm honored to receive this award from USA and proud to accept it on behalf of my colleagues throughout Florida's public radio stations" Wright said. "Madison Hodges was one of the first leaders in Florida public media to welcome me to the state and our organization when I arrived at WUFT in 2010. I became amazed at the love and admiration so many in our industry have for him. In a small, way this award brings back such warm memories of my brief time being able to be around and work with such a wonderful man and ambassador for public media."
Florida Storms uses a combination of state of the art weather tracking and forecasting technology and the expertise of staff meteorologists at WUFT-FM, the College of Journalism and Communications public radio station and host to the FPREN StormCenter, The app helps deftly navigate weather-related emergencies, from preparedness checklists to storm updates to evacuation routes. Millions will be impacted and have access.
"The USA is very proud to present Randy Wright with the Innovator Award. Randy's pioneering work with Florida public media outlets typifies the type of work our USA members accomplish each day," said John Hess, USA Board President. In addition to the award Wright received a $1,500 check.
About the Innovator Award
The Innovator Award recognizes Wright's leadership building the Florida Public Radio Emergency Network vision and leadership fostering a strengthened partnership among 13 public radio stations and the Florida Division of Emergency Management. Now fully functioning this resource serves 99% of Florida's population through participating member stations.
This award reflects the USA's Mission and Madison Hodges' desire to strengthen the public media system through improving the relationship between broadcasters and their licensees to help the station/licensee transition to success. Advancement means not accepting the status quo, so this award is for forward-thinking media professionals and institutional leaders.
Award criteria is based on the quality and importance of a short or long-term achievement. The Award is intended as a platform to recognize success, defined in this case as simply the courage to "try." Even failures, if successful in helping move the system forward, can be recognized. The Award recognizes the individual's attempts to make a greater impact in their communities and their profession as a public media professional. In 2014, the first Innovator award was presented to the Madison Hodges family.
About Madison Hodges
The late Madison Hodges (1947 – 2014) will long be remembered for his many contributions to Public Media. He was a mentor, a friend, a colleague, and a model leader. He had a long and admirable career in television and radio. As a leader he knew how to build consensus. Madison worked at several university public radio stations and he worked for a number of years in Washington, DC as a project manager for the Public Telecommunications Facilities program (PTFP) and as NPR's Director of Policy and Station Services. He then served as Executive Director of University Station Alliance. Throughout his career he also served on several national boards including the University Station Alliance, PMBA board, and the executive board of the Florida Public Broadcasting Service.
Hodges was Manager of WQCS at Indian River State College in Ft. Pierce, Florida when he lost his long-term battle with cancer in July, 2014. Madison was the University Station Alliance Executive Director in 2006. From 2007 to 2014, he served as USA's past president, past vice-president, and at the time of his passing board member.
About the University Station Alliance
The USA is a grassroots not-for-profit organization founded in 2001 to assist university-licensed stations with the challenges and opportunities associated with their licensees.
Posted: November 20, 2015
Category: College News
Tagged as: FPREN, Randy Wright, WUFT