CJC Alumna Takes Over the Reins of News Editors Association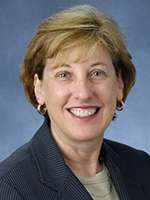 Pam Fine is perhaps the perfect leader for the American Society of News Editors (ASNE). In addition to more than 30 years as a reporter and newsroom executive, she has spent the last seven in journalism education as Knight Chair for News, Leadership and Community and professor of Journalism at the University of Kansas.
Oh, and more key qualification: she received her journalism degree from CJC in 1979.
Fine was named ASNE's president in October, after serving as the organization's vice president over the past year. And she is excited about pushing forward the group's agenda.
"We really try to be a vigorous advocate on first amendment issues," Fine said. "It's the same with diversity. Now more than ever in this country, we need coverage that reflects the people and the communities of color in the nation….There are also critical issues around the ability of legacy newsrooms and even some start-ups to cover effectively the stories that need to be told. We need to continue to provide quality journalism, which is costly to produce but vital to our communities and our countries." Those issues, along with creating quality journalism, are the "ASNE Pillars," she said.
In the coming year, ASNE is putting together sessions on drone legislation, seminars on cyber security and revamping the yearly census, which surveys diversity in newsrooms.
Fine has worked in multiple capacities that help her keep her finger on the pulse point of the industry. After graduating from UF, she went on to complete a Masters of Arts in Media Management from the University of Missouri. She has served a variety of roles at the Atlanta Journal Constitution and worked as managing editor and vice-president of the Star Tribune in Minneapolis and managing editor of the Indianapolis Star.
"I think journalism schools — and the University of Florida is a great example — are providing opportunities to students to work in new media environments, and that's critical," Fine said. "The combination of strong foundational curriculum students need coupled with hands-on experiences really positions students to face the challenges in the professional world."
Yet Fine said she's noticed students struggling to become knowledgeable about the topics they write about when there's so much pressure to create content in a hurry. "What I've found is that students are digital natives, terrific at putting together packages, but they need to dig deeper in the research and the reporting to make sure that they're giving more than cursory information to their readers."
At the University of Kansas, she teaches a required intermediate reporting class that has students work on data-analyzed enterprise stories. She hopes to continue to inspire her students to get out in the communities and cover stories other people can't get to. It's a skill she's been honing since her days at UF.
Now, with ASNE, Fine is even more involved in communicating lessons like these to newsrooms around the country. "I am so grateful that I went to the University of Florida. It was a terrific experience and I'm proud to have that association."
This story was written by Dahlia Ghabour (JOU '16)
Posted: November 2, 2015
Category: Alumni News
Tagged as: ASNE, Pam Fine