Bernell Tripp Helps Launch New Online Journal on Journalism and Mass Communication History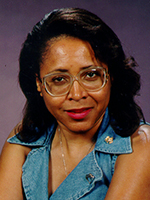 Journalism Professor Bernell Tripp is a founding editorial board member for Historiography in Mass Communication, a new online journal for journalism and mass communication history.
The journal, which is scheduled to launch in late October or early November, will focus on essays about the study of history, something no journal in the field has ever done. It will be available online with no subscription required.
Other founding editorial members include David Sloan, University of Alabama; Mike Murray, University of Missouri-St. Louis; Joseph Campbell, American University; David Davies, University of Southern Mississippi; Erika Pribanic-Smith, University of Texas at Arlington; Mike Conway, Indiana University; and Mike Sweeney, Ohio University.
Posted: October 19, 2015
Category: College News
Tagged as: Bernell Tripp