Dr. Michael Weigold Named SEC Academic Leadership Development Fellow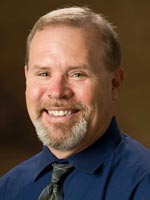 Dr. Michael Weigold, University of Florida College of Journalism and Communications Associate Dean of Undergraduate Affairs and Enrollment Management, has been selected for the 2015-16 SEC Academic Leadership Development Program (SEC ALDP).
As an SEC ALDP fellow, Weigold is one of only 50 faculty and advisors chosen from Southeastern Conference universities to join this prestigious professional development program. SEC ADLP seeks to identify, prepare and advance academic leaders for roles within SEC universities and beyond. It includes a university-level development series designed by each institution for its own participants, as well as two SEC-wide workshops that will be held this year at the University of Arkansas and the University of Mississippi.
"The individuals selected by their SEC universities to participate in the SEC Academic Leadership Development Program represent the future of higher education administration," said Torie Johnson, SECU Executive Director. "The leadership skills they already possess are sure to be enhanced by the SEC ALDP experience."
Since its creation in 2008, more than 270 faculty and academic administrators have completed the SEC ALDP. Program alumni have become deans, provosts and senior-level administrators at universities in the SEC and around the county.
Weigold joined the College of Journalism and Communications faculty in 1989 and was named Associate Dean of Undergraduate Affairs in 2010. He earned a Master's degree in Communication Research and a Doctorate degree in Psychology from UF.
While at UF Weigold has been involved in distance learning efforts and spearheaded the development of the College's first online master's degree. He was also instrumental in developing and implementing the College's new Professional Advising &Teaching Hub providing a "one-stop center" for undergraduate inquiries and services.
Posted: October 5, 2015
Category: College News
Tagged as: Michael Weigold