CJC Student Part of News21 Team That Won ONA Online Journalism Award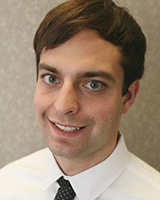 A national investigation by Carnegie-Knight News21, a multi-university investigative project that included a top student from the University of Florida College of Journalism and Communications, has captured one of the nation's premier digital journalism awards.
Wade Millward, a 2014 journalism graduate from the college, was among 29 students from 16 universities who won the Online News Association award in the student projects pro-am category. The 2014 investigation – Gun Wars –featured dozens of multimedia stories, videos, databases and photo galleries examining the polarizing issues of gun rights and regulation in America.
"We are very proud of Wade's participation in this project and our continued representation in the News21 initiative," said Diane McFarlin, dean at the University of Florida College of Journalism and Communications.  "He exemplifies the talented students from our College who exercise investigative reporting skills in our Innovation News Center on a daily basis."
The investigation was led by News21 Executive Editor Jacquee Petchel, a Pulitzer Prize-winning investigative journalist, and Leonard Downie Jr., the former executive editor of The Washington Post and current Weil Family Professor of Journalism at the Walter Cronkite School of Journalism and Mass Communication at Arizona State University, where News21 is based.
"This award is particularly special not only because it recognizes the power of strong journalism, but because it also underscores our efforts to be innovative in our visuals and storytelling about one of the most controversial topics in America," Petchel said. "We are really proud of these young journalists for their extraordinary and visionary efforts on this project."
Students analyzed gun laws in all 50 states and compiled the most complete database on gun-related deaths among children in America. They also traveled to more than 28 states interviewing hundreds of individuals and sharing their stories.
The Washington Post, USA Today and NBC News were among the news organizations that published major portions of the investigation.
"The 'Gun Wars' project exposed hundreds of thousands of Americans to a more complete picture of gun rights and gun control forces in the United States," Downie said, "through penetrating stories and powerful multimedia about real people throughout the country — gun enthusiasts and citizen militias, women gun owners and entrepreneurs, teachers who carry concealed guns in their classrooms, the passionate lobbyists and activists on both sides of gun issues and the many inner-city resident and child victims of gun violence."
The Online News Association is dedicated to inspiring innovation and excellence among journalists to better serve the public. Membership includes news writers, producers, designers, editors, bloggers, technologists, photographers, academics, students and others who produce and distribute news for digital delivery systems.
Carnegie-Knight News21 is a multimedia investigative reporting initiative established by the Carnegie Corporation of New York and the John S. and James L. Knight Foundation. The "Gun Wars" project was also supported by the Miami Foundation, the Ethics and Excellence in Journalism Foundation, the Hearst Foundations, the Donald W. Reynolds Foundation, the Peter Kiewit Foundation and Louis A. "Chip" Weil.
Posted: October 5, 2015
Category: College News, Student Awards
Tagged as: News21, ONA, Wade Millward