Barnett's Rain Named to 2015 National Book Awards Longlist for Nonfiction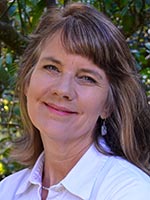 University of Florida College of Journalism and Communications Visiting Professional Cynthia Barnett's latest book — Rain: A Natural and Cultural History – has been included on the 2015 National Book Awards longlist for Nonfiction.
The National Book Awards are American literary prizes administered by the non-profit National Book Foundation. The awards celebrate the best of American literature and seek to expand the cultural value of great writing in America.
Barnett's book is a study of rain stretching from the Earth's beginnings to contemporary India. As climate change upends rainfall patterns and unleashes increasingly severe storms and drought, Barnett shows rain to be a unifying force in a fractured world.
Barnett is an award-winning environmental journalist who has reported on freshwater from the Suwannee River to Singapore. She is author of three books and has written for the New York Times, Los Angeles Times, Wall Street Journal, the Atlantic, Salon, Politico, Orion and many other publications.
She is teaching environmental journalism at the College and helped develop a workshop on water issues for journalists and meteorologists scheduled for Nov. 12-13 as well as a University-wide symposium on climate change communications scheduled for Nov. 13.
The National Book Award finalists will be announced on Oct. 14 and the winners in each category will be presented on Nov. 18 in New York.
In the News
Posted: September 16, 2015
Category: Alumni News, College News
Tagged as: Cynthia Barnett, Rain