College and Yik Yak Partner To Create Unique, Customized Local News Feed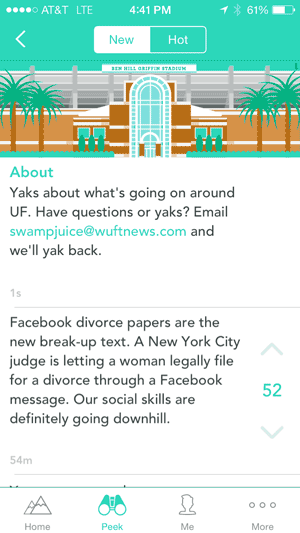 The University of Florida College of Journalism and Communications has partnered with messaging app Yik Yak to create a customized content feed for local Yik Yak users.
The feed, called Swamp Juice, is available as a Peek to any Yik Yak user around the University of Florida campus. On Swamp Juice, UF journalism students curate a feed that shares news, local developments, campus happenings and other tidbits of interest to the UF community. The community can then up-vote content that they find particularly interesting or relevant. Community members can also submit news items to the UF Swamp Juice team.
"We are very excited about experimenting with new ways to distribute meaningful content to Yik Yak's users," said Diane McFarlin, dean of the College of Journalism and Communications. "This experiment builds on our mission to leverage our Innovation News Center (INC) to provide industry executives with new insights on storytelling and content approaches."
"The power of location-based messaging apps has not been recognized by media organizations," said Matt Sheehan, director of the Innovation News Center and member of the journalism faculty. "Yik Yak provides a platform that ties us in to a targeted geographic area and provides immediate feedback on how messages perform. It's the modern town square — it's important for us to be there for both news gathering as well as to engage in the conversation."
Currently, journalism students working out of the INC write about 20 pieces of content, or "yaks", each day. Examples of recent yaks include:
"UF professor John Schueller, Ph.D., was in Abu Dhabi for a conference when he was arrested after taking photos of buildings. Thoughts go out to his family as they await the court proceedings."
"The University of Florida ranks No. 11 in the top colleges for mobile dating, based on The Grade. If you got rid of Tinder, you may want to think about downloading it again!"
"In 1981, President Regan was shot outside of a D.C. hotel and was back to work from a hospital on the next day. No more complaining about hangovers."
Yik Yak's voting feature allows the college to gauge what type of content is most engaging to this audience.
"It's great to see the University of Florida's Journalism program using Yik Yak to share news relevant to their campus," said Brooks Buffington, COO and cofounder of Yik Yak. "Yik Yak already serves as a natural news source for communities, as users post everything from traffic alerts to student government election results to event announcements on their local feed. We're thrilled to partner with UF on their customized feed and to engage with aspiring journalists who are thinking creatively about media."
The college will be experimenting with sharing breaking news and using other new app features, including embedded links. As more metrics become available during the experiment, the content will be modified based on engagement data and user feedback. The UF team will work with Yik Yak developers as they assess and develop tools for media organizations.
Because Peeks are available only to users around the University of Florida campus, we have created this short video to convey the user experience:
For more information contact:
Matt Sheehan
Director, Innovation News Center
Hilary McQuaide
Director of Communications, Yik Yak
About the University of Florida College of Journalism and Communications
The University of Florida College of Journalism and Communications is driving innovation and engagement across the disciplines of advertising, journalism, public relations and telecommunication. The strength of its programs, faculty, students and alumni — in research and in practice — has earned the college ongoing recognition as one of the best in the nation among its peers. The college includes seven broadcast and digital media properties and the nation's only program in public interest communications.
About Yik Yak
Yik Yak is a social app that enables hyper-local community discussions. Pose a question, share a joke, join a cause, or spread the word with Yik Yak, where users can converse anonymously with their local herd.
In the News
Posted: April 9, 2015
Category: College News
Tagged as: INC, Matt Sheehan, Yik Yak