Former Gainesville resident establishes endowed fund to inspire excellence
Gale King grew up attending the Homecoming parades and dreaming of being a Gator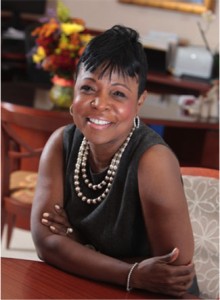 University of Florida alumna Gale King has pledged $1 million to the university to establish an endowed fund for excellence that will not only inspire future students but may also provide support for faculty, programs and other related initiatives at the university.
The primary purpose of the fund is to provide scholarships for first-generation, academically exceptional students who, like King, are from families with modest incomes. Herself a graduate of UF's College of Journalism and Communications, King has expressed that initial preference be given to students pursuing a degree in journalism and communications.
"My life's trajectory changed when I attended the university and earned my degrees," said King, executive vice president and chief administrative officer at Nationwide Mutual Insurance Co. "I know without a doubt that an education opens doors, and the experiences and exposures of a university environment develop you in magnificent ways. I also know what it is like to dream and to not have the resources to make the dream come true.
"I have been tremendously blessed, and it my hope is that I can in someway lift others and make it a little easier for them to achieve their dreams and to become all that their hard work, commitment and dedication will enable," King added. "An education changes you in powerful ways and provides an opportunity for you to make a difference – not only in your chosen career, but for family, community and the world."
King and her brother were raised by their grandmother, and King credits her for every good thing that has happened in her life. King earned bachelor's degree in journalism in 1983 and a master's in public administration in 1986.
King's career at Nationwide began in 1983 as a claims adjuster in Gainesville. She ascended to the highest levels of leadership in Nationwide's headquarters in Columbus, Ohio, becoming one of the most successful Gator alumni and women in corporate America. She has been named to Ebony's Power 100, Black Enterprise Magazine's "100 Most Powerful Executives in Corporate America," Savoy Magazine's "Most Influential Blacks in Corporate America," and the YWCA Woman of Achievement. At Nationwide, King has responsibility for the company's human resources strategies for its 33,000 associates, corporate real estate, aviation and security.
In 2007, King also established a scholarship at Santa Fe College in the names of her grandmother and mother. She credits her grandmother's influence for her career success and altruism.
"I observed what an amazing individual she was in terms of bringing two children into her home and raising them. I saw what happens when someone decides to allow their life to be used for good," King said of her grandmother.
Diane McFarlin, dean of UF's College of Journalism and Communications, said King's decision to create the fund for excellence reflects her desire to help others reach their potential.
"Gale is a giving person in every respect. She gives of her time, her resources and especially of herself. She succeeded against tremendous odds and once she achieved success, she made it her mission to ensure that others coming up behind her would have similar opportunities," McFarlin said. "Gale's gift to the University of Florida is going to make it possible for young Gale Kings to advance in life. She is providing a hand-up, a bridge, for students who might drop out otherwise."
In 2013, King joined the UF Foundation Board of Directors and serves as chair of the foundation's Talent Management Advisory Council.
"When I see Gale's success, I'm elevated by the fact that she did it through this great combination of commitment and effort and faith in herself. She's resolute. She obviously has a core sense of deep values. She's got a deep sense of personal responsibility," UF Foundation Chairman Scott Hawkins said. "Her whole story is about improvement and growth."
The University of Florida is one of the nation's most comprehensive universities. It has a long history of established programs in international education, research and service, and is one of only 17 public, land-grant universities that belong to the prestigious Association of American Universities.
The College of Journalism and Communications is recognized as one of the best programs in the United States. It offers bachelor's degrees in advertising, journalism, public relations and telecommunications, and enrolls approximately 2,300 undergraduates. Master's and doctoral degrees are offered in mass communications.
Photo Credit: Terry Gilliam/Nationwide Mutual Insurance Co.
In the news
Posted: March 9, 2015
Category: College News
Tagged as: Guest Speaker