Gainesville welcomes frank gathering to town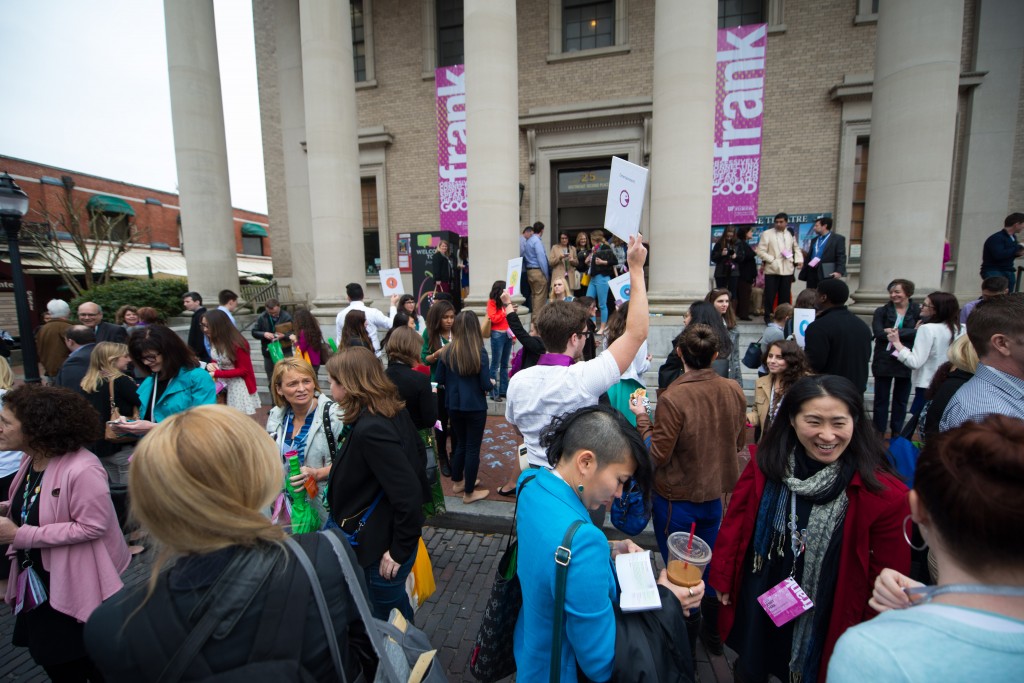 Earlier this afternoon, about 300 attendees gathered into the main stage of the Hippodrome. The room glowed in frank-colored lights, as Pristine Stringz, a local musical duo, The Savants of Souls, a local band, and two dancers clad in leotards soon filled the stage for a whimsical performance for the official opening ceremony of frank 2015.
Returning as frank's host – or as she likes to be called "the guide" – Lizz Winstead, said she sees that frank brings together all kinds of people with all sorts of tools for social change.
"It's a gathering for a reason," she said.
One of the five main aspirations of frank is to curate a community, which is something Roland Walker, a Karel fellow from 2013, said he is seeing more of this year. He said he noticed more people branching out and conversing with other attendees.
The increased social aspect is something that others have noticed as well. Donna Darius, the director of strategic communication master's program at the University of Oregon, said, the huddles – a time for franksters to gather in small groups to talk about various topics – give people the opportunity to find like-minded attendees, while the Krewes switch things up and make frank more of a social event.
The daytime huddle sessions also allow attendees to learn about topics that they might not know anything about. Debra Faulk, the vice president of community affairs for Wells Fargo in the Tampa area, said her huddle session inspired her to be passionate about communicating about an issue she previously had no knowledge of or interest in.
frank is an invite-only gathering, and Lisa Colton, the chief learning officer from See 3 Communications, said the idea of having a group of tightly curated people in attendance was one of the things that attracted her to the event. She said one of the reasons she came was because she finds that lots of ideas and strategies have already been done and recycled.
"I wanted to learn fresh ideas and approaches from a really diverse group of people." She said she hasn't been disappointed, "every single person I've met has been fascinating to talk to.
After two sessions of frank talks and a huddle breakout session, the crowd followed the violet and green umbrella-lined path from the Hippodrome to The Wooly, an event space in downtown Gainesville, for the evening activities.
At about 6:30 p.m. the Adventure Hunt kicked off and took attendees and their Krewes throughout downtown Gainesville to solve puzzles.
Faulk said the Adventure Hunt was one of her favorite parts, as the challenging clues encouraged her and her group to engage in more in-depth conversations.
She said she has enjoyed that the event has also allowed her to not only interact with industry professionals, but also some of the 200 students from the College that are working on the event.
"I have a renewed faith of the next generation in our workplace because the students I've met here are smart, interesting and interested about the world around them."
—Jaclyn De Bonis, 4JM
Posted: February 26, 2015
Category: College News
Tagged as: frank, Public Interest Communications