2015 frank gathering kicks off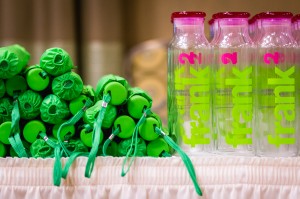 Basking in a radiant orchid glow with soulful jams wafting through the wood structure of Gainesville's recently restored train depot, the second annual frank gathering kicked off earlier tonight at the welcome rally.
frank is more than a conference. It is a gathering of a community of public interest communicators dedicated to using strategic communications to drive change.
Over the next few days at the 2015 frank gathering, speakers will talk about how to decide and learn, how technology can help move causes and how people are winning on the issues that matter most (or learning from their failures).
This year frank is even bigger than before, and Frank Karel Chair, professor Ann Christiano said that she sees that people are beginning to see frank as something that they want to be a part of.
"I increasingly see frank as a place where they build the relationships that they need to do their work well," she said of the speakers and attendees.
As the host of frank for the second year, Lizz Winstead said she is looking forward to the different breakout sessions.
"We didn't have enough time to have relationship building," she said. "I'm really excited that there's more time for breakouts."
For Mark Dessauer, the director of communications for Blue Cross Blue Shields of North Carolina foundation, frank is an amazing almost cult-like thing. He said it is re-energizing and a place where brilliant ideas are shared with students who are about to launch their careers and industry professionals who have great perspective.
"I had a blast last time. They couldn't stop me from coming back again."
—Jaclyn De Bonis, 4JM
Posted: February 25, 2015
Category: College News
Tagged as: frank, Public Interest Communications