Foley to interview James Franco for ACCENT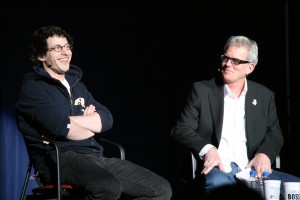 Master Lecturer Mike Foley will interview actor, writer and director James Franco as a part of the ACCENT Speakers Bureau at the University of Florida on Feb. 25.
"I'm flattered to be asked once again by ACCENT to do this," said Foley. "I look forward to meeting James Franco. I've always admired his work."
When Foley was asked on what we are to expect from his interview he replied, "I have rich field to plow here," referencing Franco's diverse body of work.
Foley has interviewed other high-profile speakers for the ACCENT Speakers Bureau, including Zach Braff, Diablo Cody, Vince Gilligan, Rex Lee and Andy Samberg.
Franco's presentation will include a moderated conversation followed by an audience question-and-answer session. The program starts at 8 p.m. at the Stephen C. O'Connell Center. Doors open at 7 p.m.
Foley is a College of Journalism and Communications alumnus and veteran newspaper editor, who worked with the (St. Petersburg) Times Publishing Co. for nearly 30 years before joining our faculty.
Franco is an actor, director, screenwriter, producer, teacher and author. He began his career on FREAKS AND GEEKS and received a Golden Globe Award for his performance in the biographical film JAMES DEAN. Notable film credits include OZ THE GREAT AND POWERFUL, SPRING BREAKERS, "Harry Osborn" in the SPIDER-MAN trilogy, MILK and 127 HOURS for which he received Academy Award, SAG and Golden Globe nominations for Best Actor. He has directed, wrote and produced several features and has been published several times in magazines and through his own books. He is currently teaching college courses at UCLA, USC and CAL ARTS and acting classes at STUDIO 4 and recently made his Broadway debut in OF MICE & MEN to rave reviews.
"James Franco is one of the most well-known movie stars in Hollywood, and I'm ecstatic that he's coming to share his experiences with the students," said Corey Flayman, ACCENT Speakers Bureau Chairman.
The event is free and open to the public. Tickets are not required; seating will be available on a first-come, first-served basis.
About ACCENT Speakers Bureau:
ACCENT Speakers Bureau is the largest student-run speakers bureau in the nation and is an agency of the University of Florida student government. Since its creation in 1967, ACCENT has worked to bring prominent, controversial and influential speakers to the university to enhance students' education outside the classroom.
Posted: February 16, 2015
Category: College News
Tagged as: Guest Speaker, Mike Foley