Tampa Bay Times environmental reporter Craig Pittman speaks at UF
Preview story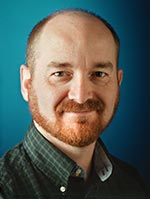 Tampa Bay Times environmental reporter Craig Pittman will give a public lecture at the University of Florida Monday, Feb. 2 at noon in Smathers Library (East), Room 100. Attendees are invited to bring their lunch for the discussion. The UF College of Journalism and Communications' Hugh Cunningham Professorship in Journalism Excellence and the George A. Smathers Libraries are sponsoring the lecture.
Considered one of the nation's top environmental reporters, Pittman shares raucous stories about the environmental beat: From covering secret Texas hunting trips paid for by sugar lobbyists to hurricanes and other disasters, natural and human-made.
He has covered environmental issues for Florida's largest newspaper since 1998. He has won the Waldo Proffitt Award for Distinguished Environmental Journalism in Florida four times and has twice won the top investigative reporting award from the Society of Environmental Journalists.
Pittman is the author of three books, "Paving Paradise: Florida's Vanishing Wetlands and the Failure of No Net Loss" with coauthor Matt Waite; "Manatee Insanity: Inside the War Over Florida's Most Famous Endangered Species;" and "The Scent of Scandal: Greed, Betrayal, and the World's Most Beautiful Orchid."
His new book in the works is "Oh #Florida! How America's Weirdest State Influences All the Rest."
Pittman will be on campus to speak to students in environmental journalism courses at the College of Journalism and Communications. He can be found at http://www.facebook.com/craigtimes and http://www.twitter.com/craigtimes.
Posted: January 13, 2015
Category: College News
Tagged as: Craig Pittman, Guest Speaker, Tampa Bay Times