David Epstein shares expertise as UF Science Journalist in Residence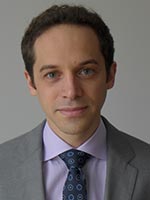 David Epstein, author of "The Sports Gene: Inside the Science of Extraordinary Athletic Performance," will spend Jan. 27-30 on the University of Florida campus as part of the university's new Science Journalist in Residence Program.
A highlight of Epstein's visit will be a public talk held on Wednesday, Jan. 28, at 6 p.m. at Gannett Auditorium in Weimer Hall on the UF campus. His topic will be "Roger vs. Tiger: Why sports science says we're developing young athletes wrong." A book signing will immediately follow his speech.
"The Sports Gene" was a New York Times bestseller for Epstein, who has written for Sports Illustrated, Discover, Scientific American, Slate, The Washington Post, National Geographic and many other publications. He also covers energy and environmental issues and sports science for ProPublica. His TED Talk "Are athletes really getting faster, better, stronger?" has been viewed more than 1.9 million times.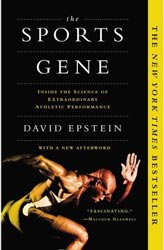 The Science Journalist in Residence Program is sponsored by the UF College of Journalism and Communications, the UF Office of the Provost and the UF Office of Research. Epstein's visit is also being supported by the Alan C. and Elizabeth Martin Moore Lecture Series from College of Health and Human Performance.
"The goal of the program is to give students and faculty the opportunity to deepen their knowledge of science journalism through interacting with some of its most captivating practitioners," said Diane McFarlin, dean of the College. "David is ideally suited for this role, and we are thrilled that he will join us in the first year of the program.  His interest in sports science, human performance, energy, and the environment will give our students wonderful learning opportunities."
For Epstein, he is excited at the prospect of opening a discourse with journalism students about the power and peril of communicating science.
"I think of the present as a dangerous Golden Age for science writing: There is greater necessity than ever to bridge the gap between what scientists know and what the public knows, and there are heaps of outstanding works doing just that," said Epstein. "At the same time, much of the flood of daily science reporting serves to confuse the public about scientific findings and – often more importantly – how science fundamentally works. I hope I'll leave campus giving at least a few journalism students a greater sense of mission, and that I'll have gained a better understanding of the challenges facing prospective science writers."
He authored or co-authored several of Sports Illustrated's most high-profile investigative pieces, including the revelation that Yankees third baseman Alex Rodriguez tested positive for steroids in 2003; an investigation of fraudulently marketed athletic performance and healthcare remedies (including deer antler spray); and an investigation that prompted the resignation of Ohio State football coach Jim Tressel by revealing a pattern of NCAA violations during his tenure.
Highlights of the public talk:
Posted: January 6, 2015
Category: College News
Tagged as: David Epstein, Guest Speaker, Science Journalist in Residence