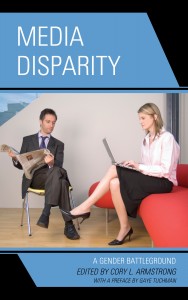 A new book edited by University of Florida College of Journalism and Communications Associate Professor Cory Armstrong that details the inequity of gender representations in informational and entertainment media has been published by Lexington Books.
"Media Disparity: A Gender Battleground" examines the latest research in discourse and content analyses trending in both domestic and international circles, and highlights the progress – or lack thereof – in media regarding portrayals of women, across genres and cultures within the 21st century.
"The portrayal of women in media has been a key aspect in my research program throughout my career, and this book illustrates how little those representations have changed in the past 35 years," Armstrong said.  "Given that media serve as a socializing agent for children and young adults, it's important to understand the messages that our youth are receiving regarding gender roles in contemporary society, in genres ranging from health news to video games."
Armstrong enlisted some of the top experts and researchers in mass communication to address employment, sourcing, coverage and representation in global media.
"The contributors to this book are among the pre-eminent feminist scholars in the mass communication field, along with some up-and-coming gender researchers. This collection of authors gives a clear overview of gender representations over time, along with some  new trends in the area," Armstrong said.
Armstrong joined the UF faculty in 2004 after more than eight years of professional journalism experience on newspapers in Ohio.
"Cory's research is making a significant contribution to the literature on gender and media," said Diane McFarlin, dean of the UF College of Journalism and Communications.  "She is laying much of the groundwork for how women are represented in news content."
The book is available through Lexington Books at http://www.lexingtonbooks.com/, Amazon at http://www.amazon.com/Media-Disparity-A-Gender-Battleground/dp/0739181874 and Barnes and Noble at http://www.barnesandnoble.com/w/media-disparity-cory-l-armstrong/1116458990?ean=9780739181881