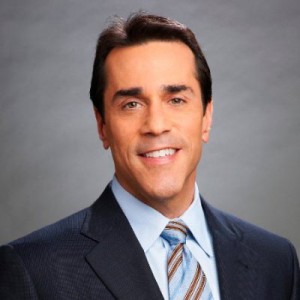 Defining Moments is a new series featuring significant events in the lives of CJC alumni, faculty and staff. If you have a defining moment you'd like to share, please let us know.
Early in Bruce Kallner's career as a budding sportscaster in Des Moines, Iowa, he interviewed Hall-of-Fame golfer Gary Player.  The golfing great treated Kallner with such respect that it made a lasting impression about character and dignity and how to treat those in a professional environment. He also interviewed baseball Hall-of-Famer Bob Feller, one of his dad's favorite players, and Bob's display of emotion during the interview, recounting his service in World War II,  reinforced Kallner's love for storytelling and the need for passion. That was more than two decades ago. Fast forward to this August when perhaps Kallner experienced his most defining moment.
As Senior Vice President of Strategic Sales and Marketing at NBC IMPACT, Kallner helped organize and deliver sponsorships for the Clear the Shelters initiative, where NBC- and Telemundo-owned television stations across the country partnered with more than 400 animal shelters on a groundbreaking pet-adoption day.  The result:  more than 20,000 animals were adopted in a single day, literally clearing out many shelters.
"I love my job at NBC," Kallner said, "but this event taught that me that you could do things in your life and in your career that energize you and are immensely gratifying and transcend what you have to do to just earn a living. An old mentor once told me to never feel like you're trapped.  You always have options in life and career."
Bruce's option at this stage in his life – his defining moment – was using his success and influence to make a meaningful impact on the lives of thousands of animals in need.