Janice Krieger Receives Funding for Breast Cancer Survivors Attitudes Toward Exercise Study
University of Florida College of Journalism and Communications  STEM Translational Communication Center Director Janice Krieger has received a UF Health Cancer Center (UFHCC) $70,000 Pilot Project Award to study the perceptions of breast cancer survivors towards physical activity during and after treatment and the role of online social networks. She will serve as co-principal investigator along with François Modave, UF College of Medicine mHealth Lab director.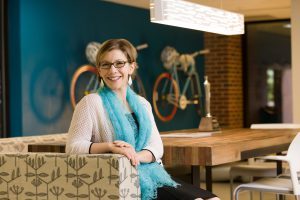 The goal of the study, "Breast Cancer Survivors Perceptions towards Physical Activity and the Role of Online Social Networks," is to better understand the barriers breast cancer survivors face when adopting an exercise program and how ethnicity and socio-economic status impact these decisions. The project includes development of a mobile application providing automated exercise programs specific to the user, as well as online social networking and motivational messaging to control weight gain during and after treatment for breast cancer survivors.
Posted: March 5, 2018
Category: News
Tagged as: Janice Krieger, STEM Translational Communiation Center, UFHCC Pilot Project