The Journalism Balancing Act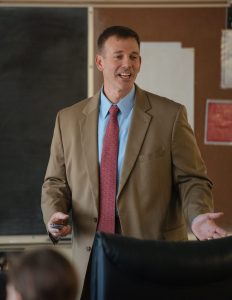 By Ted Spiker
Chair, Department of Journalism
As you might imagine, students approach faculty with all sorts of questions. They range from meaning-of-the-universe ones ("what am I going to do with my life?") to did-you-even-look-at-the-syllabus ones ("when is the exam?"). Though it would be impossible to generalize about the subject of all student concerns that make their way to our offices, inboxes, DMs[1] and snaps[2], many inquiries come back to a subject we all talk about often: Balance.
How do I balance school and work? Student media and professional internships? Meat-and-potatoes classes and cake classes?[3] Sleep and social life? Getting better at the skills I already have an aptitude for or learning new ones, even though it might hurt?
These kinds of balancing-act questions are exactly what we—as a faculty representing an ever-changing industry, job market and uber-talented student body—deal with all the time.
Where's the balance in a curriculum between…
Traditional skills and futuristic ones?
Broad strokes and deep dives?
Preparing students for what they can do immediately after graduation and preparing them for how they will lead, innovate and think about our future?
Journalism with a capital J and journalism skills as a path to many kinds of careers?
Our journalism faculty—one that has long embraced curriculum change, despite the necessary bureaucracies and processes of a large state university—has batted around these questions and more. We believe that our most recent change—now in its second full year[4]—has the ability to nimbly prepare students for what awaits them.[5]
Some of the highlights of the new journalism curriculum:
Students will take two-course specializations in the subject area of their choice; this is designed to allow our students to go deeper on a skill or subject matter, so that each student will graduate with some area of expertise;
Students will then come together in a common capstone (as opposed to a specific-skill one) to work together in teams, much like the way a newsroom team would work with cross-functional teams working together on the same stories;
Students will take a re-designed intermediate multimedia reporting course to help build better skills to prepare for specializations and the common capstone;
Students will take a numeracy course (we have moved it from the elective that it has been for several years to a requirement), so that numbers-averse students can become more comfortable with math for media.
As these and other changes take shape, we're looking at the curriculum holistically and as something that can constantly be changed, tweaked and built upon. For example, the two-course sequence allows us to swiftly move to create new back-to-back sequences in who-knows-what's-next content areas. To that end, these are some of the guiding principles that serve as the blueprint for how we approach teaching for the future.
ADD New Skills. Over the past several years, we have developed six courses in the areas of data journalism, data visualization, and coding for media. While these aren't required for our students,[6] we have seen surges in enrollment in these courses, and students have recognized that the journalism degree of yesterday may not be enough for the journalism degree of today.
We continually experiment with new forms, platforms, skill sets and ways of thinking, whether it be courses that have been offered (or will be offered) in such areas as Audience Engagement, Drone Journalism, Social Media Law and Ethics, 360 Video, Solutions Journalism, Virtual Reality for Social Good and more.
The fact that we have a course called Innovative Storytelling speaks to this very point. Does every student take advantage of all of these? No, but we're committed to experimentation and to adding modern and futuristic skill sets to our curriculum—either as one-time offerings or permanent ones.
REINFORCE Traditional Skills and Foundational Values. At our core, we will continue to value and emphasize the value of quality reporting, writing and multi-platform storytelling at beginning through advanced levels. A new faculty member, Moni Basu, formerly a senior writer on CNN's digital enterprise team and our Michael and Linda Connelly Lecturer in Narrative Nonfiction, will work with students on a variety of storytelling techniques and forms. We will also continue to emphasize the First Amendment and the legal and ethical issues of access, public records and a free press.
DIVE Deeper into Investigative and Access. We've been fortunate that a long-standing fixture of the Department—our public-records course called Fact Finding—has been taught by two top-notch journalists from the Tampa Bay Times (most recently Adam Playford and Kat McGrory, who are on the investigative team).
With the addition of Ted Bridis, formerly the editor of the Associated Press's Pulitzer-winning Washington investigations team and our new Rob Hiaasen Lecturer in Investigative Reporting, we'll be adding strength and presence with our Investigative Reporting course, Fact Finding, Data Journalism—and how they will bolster the work of students who work in our Innovation News Center, the Independent Florida Alligator, and other media outlets.
With Frank LoMonte, our new executive director of the Brechner Center, on board for the past year, our emphasis on access, records, and accountability continues to be strong, robust, and at the forefront of the College's mission.
FIND the Focus. Not only will our two-course sequence help students find their niches, talents and areas of specialty, but they will also serve as the coursework that can help them as they launch their careers. Currently, we have about 10 different one-two sequences (in such areas as reporting, data, coding, photo, design and more). Here, we have the opportunity to not only build on the strengths of our faculty (I think of the courses taught by our Environmental Journalist in Residence, Cynthia Barnett, a long-list finalist in the National Book Awards for her book Rain), but we also have the opportunity to experiment in emerging areas of journalism and media.
OPEN Eyes. Increasingly, we will focus on ensuring that our courses emphasize diverse viewpoints. Professor Herb Lowe, director of the Summer Media Institute, and Professor Joanna Hernandez, a new journalism lecturer and the College's new Director of Inclusion and Diversity, as well as others, have led the charge in making this a regular part of formal and informal discussions about course development and practice. We will continue to reinforce to our students the importance of diversity in how we think about stories and communities.
EXPAND Playgrounds and Experimental Course Formats. More and more, we'll be trying new course formats. Not everything, after all, is best suited for a 16-week semester. For example, Joy Mayer, an expert in the strategy of engagement, teaches our Audience Engagement course in an immersive weekend. Last year, we brought down Archie Tse, deputy graphics editor of the New York Times, to work with our very advanced students in a special weekend course. Creative approaches in format can lead to more opportunities for students.
ENCOURAGE a Mile Wide AND a Mile Deep. Our goal is to help students learn a lot of skills—at least in a "I'm-familiar-with-it" level of understanding, so they can adapt and grow in their internships and jobs. But with the building of our specializations and capstones, we expect our students to emerge with at least one base skill in which they can achieve star status. The more we can get the majority of our students in this space—know a bunch about a lot and a lot about something—the better they'll be prepared for our changing world.
TEAM Up at the Top. We're a semester or two away from unveiling our new common capstone—a course that will bring together all students with different specializations to work on small-team projects that would be publishable in local, national, or international[7] venues. The idea is that instead of separating our students in their most advanced coursework, we need to bring them together, so they can work with each other, build on each other's strengths, learn how to solve problems, fail a little, experiment a lot, and practice in real-time and real-life scenarios. This will allow them to create and execute projects that mean something to the audiences and communities we serve.
1] "Are you in your office right this very second?"
[2] "Look at this story I just published!"
[3] Speaking of meat, potatoes, and red velvet, we now also offer a course called Food Media and Culture.
[4] Forgive the minutia, but these few years are transition years, meaning that we will not see the full impact of change for a few academic cycles, as a new curriculum starts with incoming freshmen.
[5] Whatever that turns out to be!
[6] Yet?
[7] I guess everything potentially has international reach these days.