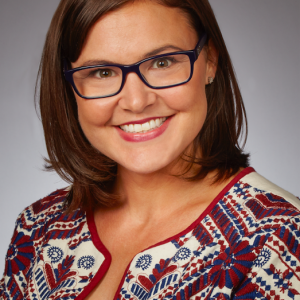 Elizabeth Flood-Grady, Ph.D.
Visiting Assistant Professor, STEM Translational Communication Center
Manager, Clinical Translational Science Institute Recruitment Center
Bio
Dr. Elizabeth Flood-Grady (Ph.D., University of Nebraska-Lincoln) is an interdisciplinary, mixed-methods, translational communication scientist. Her primary research goal is to improve communication in clinical, online, and family decision-making contexts. She is an expert in strategic messaging in clinical research participation and recruitment contexts and how family and health communication about stigmatized illnesses influence decision-making. Dr. Flood-Grady has received grant funding to support her research and published in several interdisciplinary journals, including Health Communication, Journal of Clinical and Translational Science, and Chronic Illness. As a Postdoctoral Associate, she works jointly in the STEM Translational Communication Center in College of Journalism and Communications and the Clinical Translational Science Institute.
News
Publications
Flood-Grady, E., Hough, D., Damiani, R.E., Gebru, N.M., Fedele, D.A., Leeman, R.F. & Krieger, J.L. (2020). Communication strategies for designing Facebook advertising campaigns to recruit rural participants to develop healthcare delivery interventions. Journal of Clinical and Translational Science, 1-10. https://doi.org/10.1017/cts.2020.5
Flood-Grady, E., Liu, J., Paige, S.R., Lee, D., Nelson, D.R., Shenkman, E., Freed, D., & Krieger, J.L. (2020). Examining communication techniques to promote clinical trial accrual among health research registry participants. Contemporary Clinical Trials Communications, 17(1), 10050. https://doi.org/10.1016/j.conctc.2019.100510
Paige, S.R., Damiani, R.E., Flood-Grady, E., Krieger, J.L., & Stellefson, M. (2020). The perceived availability of online social support: Exploring the contributions of illness and rural identities in respiratory health. International Journal of Environmental Research and Public Health, 1(1), 242. https://doi.org/10.3390/ijerph17010242
Flood-Grady, E., & Koenig Kellas, J. (2019) Sense-making, socialization, and stigma: Exploring narratives told in families about mental illness. Health Communication, 34(6), 607-617. https://doi.org/10.1080/10410236.2018.1431016
Flood-Grady, E., Neil, J., Paige, S.R., Lee, D., Damiani, R.E., Hough, D., Savitsky, Z., George, T.J., & Krieger, J.L. (2019) A pilot study determining comprehension and the acceptability of a cancer research study website for cancer patients and caregivers. Journal of Cancer Education. https://doi.org/10.1007/s13187-019-01501-w
Flood-Grady E., Clark V., Bauer A., Morelli L., Horne P., Krieger J.L., & Nelson D.R. (2017). Evaluating the efficacy of a registry linked to a consent to re-contact program and communication strategies for recruiting and enrolling participants into clinical trials. Contemporary Clinical Trials Communications, 8, 62-66. https://doi.org/10.1016/j.conctc.2017.08.005
Flood-Grady E., Paige, S.R*., Karimipour, N., Harris, P., Cottler, L.B., & Krieger J.L. (2017). A content analysis of CTSA strategies for communicating about clinical research participation online. Journal of Clinical and Translational Science, 1, 340-351. https://doi.org/10.1017/cts.2020.5