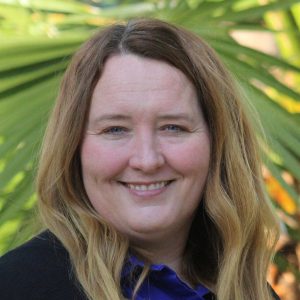 Carma Bylund, Ph.D.
Associate Professor, Department of Public Relations
Division of Hematology & Oncology, College of Medicine
Member, UF Health Cancer Center
Bio
Dr. Carma Bylund is associate professor in the Department of Public Relations with an additional appointment in the STEM center and in the Division of Hematology & Oncology, College of Medicine. Dr. Bylund is a behavioral scientist with international expertise in healthcare communication. Her research spans the cancer continuum from prevention to survivorship. Dr. Bylund's research collaborations have resulted in more than $5 million in grant funding, primarily from the National Cancer Institute.
Dr. Bylund has published 89 peer-reviewed journal articles, 20 book chapters and is co-editor of two Oxford books. Dr. Bylund was previously Director of the Communication Skills Training and Research Laboratory at Memorial Sloan Kettering Cancer Center in New York City, NY, where she co-developed the Comskil Model for communication skills training. Following, she was Associate Director for Medical Education at Hamad Medical Corporation in Doha, Qatar, where she led the dissemination and evaluation of the Comskil Model for teaching in a multi-cultural environment.
Dr. Bylund is a fellow in the American Academy on Communication and Healthcare. She teaches graduate level courses: Communication in Healthcare and Systematic Review Methods.
Education
B.A., Brigham Young University, Communications and Political Science
M.S., University of Nebraska, Communication
Ph.D., Northwestern University, Communication Studies
Publications
Selected Publications
Bylund CL, Weiss E, Michaels M, Patel S, D'Agostino T, Peterson EB, Binz-Scharf MC, Blakeney N, McKee MD. Primary care physicians' attitudes and beliefs about cancer clinical trials. Clinical Trials 2017; epub ahead of print.
Bylund CL. Taking the 'training' out of communication skills training. Patient Education & Counseling 2017; 100: 1408-1409.
Kissane D, Bultz B, Butow P, Bylund CL, Noble S, Wilkinson S. Oxford Textbook of Communication in Oncology and Palliative Care, 2nd Edition. Oxford: Oxford University Press, 2017.
Shen MJ, Peterson E, Costas-Muniz R, Hernandez MH, Jewell ST, Matsoukas K, Bylund CL. The effects of race and racial concordance on patient-physician communication: A systematic review. Journal of Racial and Ethnic Health Disparities 2017; epub ahead of print.
Franco K, Shuk E, Philip E, Blanch-Hartigan D, Parker PA, Matasar M, Horwitz S, Kissane DW, Banerjee SC, Bylund CL. Communication between oncologists and lymphoma survivors during follow-up consultations: A qualitative analysis. Journal of Psychosocial Oncology 2017; epub ahead of print.
Bylund CL, Alyafei K, Afana A, Al-Romaihi S, Yassin M, Elnashar M, Al-Arab B, Al-Khal A. Satisfaction with a 2-day culturally tailored communication skills course for medical specialists in Qatar. Journal of Family and Community Medicine 2017; 24: 122-7.
Banerjee SC, Manna R, Coyle N, Penn S, Gallegos TE, Zaider T, Krueger CA, Bialer PA, Bylund CL, Parker, PA. The development, implementation, and evaluation of a communication skills training program for oncology nurses. Translational Behavioral Medicine 2017; in press.
D'Agostino TA, Shuk E, Maloney EK, Zeuren R, Tuttle M, Bylund CL. Treatment decision making in early stage papillary thyroid cancer. Psycho-Oncology 2017; epub ahead of print.
Fisher CL, Rising CJ, Roccotagliata T, Glogowski E, Kissane D, Bylund CL. 'I don't want to be an ostrich: Managing families' uncertainty during genetic counseling about BRCA risk.' Journal of Genetic Counseling 2017; 26: 455-468.
Bylund CL, Alyafei K, Anand A, Al Marri A, Omer W, Sinha T, Alam W, Abdelrahim A, Al-Khal A. Development and implementation of an institutional-based communication skills program for residents and fellows in Qatar. International Journal of Medical Education 2017; 8: 16-18.
Peterson EB, Ostroff JS, DuHamel KN, D'Agostino TA, Hernandez M, Canzona MR, Bylund CL. Provider-patient communication and cancer screening adherence: A systematic review. Preventive Medicine 2016; 93: 96-105.
Clayman M, Bylund CL, Chewning B, Makoul G. The impact of patient participation in health decisions within medical encounters: A systematic review. Medical Decision Making 2016; 36: 427-452.
Pehrson C, Banerjee SC, Manna R, Shen MJ, Hammonds S, Coyle N, Krueger CA , Maloney E, Zaider T, Bylund CL. Responding empathically to patients: Development, implementation and evaluation of a communication skills training module for oncology nurses. Patient Education and Counseling 2016; 99: 210-216.
Shen MJ, Dyson RC, D'Agostino TA, Ostroff JS, Dickler MN, Heerdt AS, Bylund CL. Cancer-related internet information communication between oncologists and breast cancer patients: A qualitative study. Psycho-Oncology 2015; 24: 1439-47.
Gaff CL, Bylund CL. (Eds). Family Communication About Genetics: Theory and Practice. 2010. New York City: Oxford University Press.
Research
Research Keywords
Doctor-patient communication, interaction analysis, medical education, skills transfer, Kirkpatrick triangle, cancer survivorship, cancer screening
Research Areas
Communication in healthcare, specifically in contexts of: cancer prevention, cancer care, cancer survivorship. Other contexts include: patient navigation, genetic counseling, clinical trials. Interventions to improve health care communication (both physician and patient focused).