Carla Fisher Comments on the Importance of Good Communication for Better Health Outcomes
Carla Fisher, University of Florida College of Journalism and Communications Advertising assistant professor, was featured in "To Beat Cancer Talk to Your Family" published in Folks – A Pillpack Magazine on Jan. 2.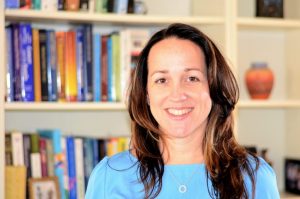 In the article, Fisher speaks on the importance of family communication after a cancer diagnosis and stresses that strong familial relationships are crucial to cancer recovery. She comments on interviews she conducted with over 150 patients and family members about their relationships and then analyzed the health outcomes of her interviewees.
"We've found that [family] communication patterns can actually impact health outcomes," she said.
Fisher was also featured in "Medical Acupuncture Builds Trusts Between Physician and Patient" published by the Acus Foundation on Dec. 4. The article focuses on the research by Fisher and her colleagues on medical acupuncture and their discovery that it brought a feeling of greater trust between patients and physicians.
"Acupuncture really changed that relationship," Fisher said. "It warrants that doctors take more time, and they get to know their patients on a more intimate level. How we communicate plays a critical role in health outcomes," she said.
Posted: January 22, 2018
Category: News
Tagged as: Acus Foundation, Carla Fisher, Folks - A Pillpack Magazine, STEM Translational Communication Center