The Efficacy of Virtual Healthcare Assistants for Colorectal Cancer Screening
University of Florida College of Journalism and Communications STEM Translational Communication Center Director Janice Krieger is the lead author of "A Pilot Study Examining the Efficacy of Delivering Colorectal Cancer Screening Messages via Virtual Health Assistants" published in the American Journal of Preventive Medicine on April 20.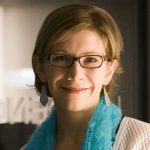 Krieger, Danyell Wilson-Howard, Sarah Chavez, Erick Laber, Marie Davidian, Thomas George, Francois Mondave, Folakemi Odedina and Benjamin Lokconducted a pilot study to determine the efficacy of the Meet ALEX virtual healthcare assistant intervention to increase patient intentions to talk to their doctor about colorectal screening. They also examined the influence of animation and race concordance on intentions to complete colorectal cancer screening.
According to the authors, "Animated virtual healthcare assistants were efficacious compared with the static virtual healthcare assistant and attention control conditions. The influence of race concordance between source and participant was inconsistent across conditions. This warrants additional investigation in future studies given the potential for virtual healthcare assistant‒assisted interventions to promote colorectal cancer screening within guidelines."
In addition, Krieger was a co-author of "A Subjective Culture Approach to Cancer Prevention: Rural Black and White Adults' Perceptions of Using Virtual Health Assistants to Promote Colorectal Cancer Screening" published in Health Communication on April 20.
Krieger, Melissa Vilaro, Danyell Wilson-Howard, Jordan Neil, Fatemeh Tavassoli, Mohan Zalake, Benjamin Lok, Francois Mondave, Thomas George, Folakemi Odedina, Peter Carek and Aubrey Mys compared perceptions of a colorectal cancer screening intervention delivered via virtual health assistants among rural Black and White study participants.
According to the authors, "Assessing perceptions of health interventions that deliver cancer prevention messages is becoming increasingly important, as this information can play a significant role in improving access to medical services. Bridging theory, health communication, and technology can be a powerful tool for inclusive delivery of colorectal cancer prevention messages."
Posted: April 21, 2021
Category: News