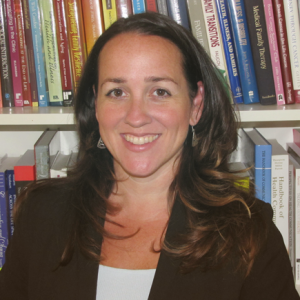 Carla L. Fisher, Ph.D.
Assistant Professor - Department of Advertising Affiliate Member, UF Health Cancer Center Affiliate Member, STEM Translational Communication Center
Bio
Carla L. Fisher is an Assistant Professor in the Advertising Department and Affiliate Member of the STEM Translational Communication Center and UF Health Cancer Center. She was a Pre-doc Fellow with the National Institute on Aging (NIA) with summer post-doc training from the National Cancer Institute (NCI).
Using a life-span, developmental lens she examines the importance of family communication to health in the family environment and clinical setting. She conducts translational narrative-focused, mixed-method research with multi-method qualitative designs and collaborates with diverse health practitioners and medical institutions.
Her work has been funded at the federal, private, and local levels and published in journals like Psycho-Oncology, Patient Education & Counseling, Journal of Genetic Counseling, and Health Communication. She has been an invited health behavior expert for government including the USAID and Office of Women's Health (OWH). She is currently the qualitative health behavior scientist on research grants with the Military Primary Care Research Network.
Fisher has received international and national awards for her research on mother-daughter communication, breast cancer risk, coping, and prevention, in which she has collaborated with global leaders in cancer care like Mayo Clinic and Memorial Sloan-Kettering Cancer Center (www.motherdaughterbreastcancer.com). Her book Coping Together, Side by Side: Enriching Mother-Daughter Communication across the Breast Cancer Journey is the first translational, research-based book on the psychosocial experience of cancer from the mother-daughter perspective. It has been commended for its translational value to practitioners and families by clinicians at the Johns Hopkins Breast Center and UCLA School of Medicine.
Her work has been covered by media outlets like The Washington Post, Northern Virginia Magazine, and AZ Central/Arizona Republic (Channel 12 USA Today News) in Phoenix.
Education
Ph.D. Pennsylvania State University
M.A. Arizona State University
B.S. Florida Institute of Technology
News
Publications
SELECT PUBLICATIONS
Fisher, C. L., Fowler, C., Wolf, B., & Canzona, M. R. (2016). Experiences of "openness" between mothers and daughters during breast cancer: Implications on coping and health outcomes. Psycho-Oncology.
Fisher, C. L., Roccotagliata, T. J., Rising, C. J., Kissane, D., Glogowski, E., & Bylund, C. (2016). "I don't want to be an ostrich": Managing mothers' uncertainty during BRCA 1/2 genetic counseling. Journal of Genetic Counseling.
Canzona, M. R., Garcia, D., Fisher, C. L., Raleigh, M., Kalish, V., & Ledford, C. (2016). Communication about sexual health with breast cancer survivors: Variation among patient and provider perspectives. Patient Education & Counseling.
Fisher, C. L., & Nussbaum, J. F. (2015).  Maximizing wellness in successful aging and cancer coping: The importance of family communication from a socioemotional selectivity theoretical perspective. Journal of Family Communication. 15, 3-19.
Fisher, C. L., & Wolf, B. (2015). Morality and family communication at the end of life. In V. Waldron & D. Kelley (Eds.), Moral talk across the lifespan: Creating good relationships (pp. 95-114). New York: Peter Lang.
Fisher, C. L. (2014). Coping together, side by side: Enriching mother-daughter communication across the breast cancer journey. New York: Hampton Press.
Fowler, C., Fisher, C. L., & Pitts, M. (2014). Older adults' evaluations of middle-aged children's attempts to initiate discussion of care needs. Health Communication, 29, 717-727.
Fisher, C. L., Maloney, E., Glogowski, E., Hurley, K., Edgerson, S., Lichtenthal, W. G., Kissane, D., & Bylund, C. (2014). Talking about familial breast cancer risk: Topics and strategies to enhance mother-daughter interactions. Qualitative Health Research, 24, 517-535.
Pitts, M., Fowler, C., Fisher, C. L., & Smith, S. A. (2014). Politeness strategies in imagined conversation openers about eldercare. Journal of Language & Social Psychology, 33, 27-46.
Miller-Day, M., Fisher, C. L., & Stube, J. (2013). Mother-daughter and son communication. In M. T. Morman & K. Floyd (Eds.), Widening the family circle: New research in family communication, second edition (pp. 1-17). Thousand Oaks, CA: Sage.
Fisher, C. L., Miller-Day, M., & Nussbaum, J. F. (2013). Healthy doses of positivity: Mothers' and daughters' use of positive communication when coping with breast cancer. In M. Pitts & T. J. Socha (Eds.), Positive communication in health and wellness(pp. 98-113). New York: Peter Lang.
Fisher, C. L., Goldsmith, D., Harrison, K., Hoffner, C. A., Segrin, C., Wright, K., & Miller, K. (2012). Communication and mental health: A conversation from the CM café. Communication Monographs, 79, 539-550.
Bylund, C., Fisher, C. L., Brashers, D., Edgerson, S., Glogowski, E. A., Boyar, S. R., Kemel, Y., Siegel, B., Spencer, S., & Kissane, D. (2012). Sources of uncertainty about daughters' breast cancer risk that emerge during genetic counseling consultations.  Journal of Genetic Counseling, 12,
292-304.
Fisher, C. L., & Nussbaum, J. F. (2012). "Linked lives": Mother-adult daughter communication after a breast cancer diagnosis. In F. C. Dickson & L. M. Webb (Eds.), Communication for families in crisis: Theories, research, strategies (pp. 179-204). New York: Peter Lang.
Fisher, C. L. (2011). "Her pain was my pain": Mothers and daughters sharing the breast cancer journey. In M. Miller-Day (Ed.), Family communication, connections, and health transitions: Going through this together (pp. 57-76). New York: Peter Lang.
Nussbaum, J. F., & Fisher, C. L. (2011). Successful aging and communication wellness: Understanding aging as a process of transition and continuity. In Y. Matsumoto (Ed.), Faces of aging: The lived experiences of the elderly in Japan, (pp. 263-272). Palo Alto, CA: Stanford University Press
Fisher, C. L. (2010). Coping with breast cancer across adulthood: Emotional support communication in the mother-daughter bond. Journal of Applied Communication Research, 38, 386-411.
Nussbaum, J. F., Miller-Day, M., & Fisher, C. L. (2009). Communication and intimacy in older adulthood. Madrid: Aresta.
Fowler, C., & Fisher, C. L. (2009). Attitudes toward decision-making and aging, and preparation for future care needs. Health Communication, 24, 691-630.
Nussbaum, J. F., & Fisher, C. L. (2009). Communication model for the competent delivery of geriatric medicine. Journal of Language and Social Psychology, 28, 190-208.
Research
Fisher uses a developmental framework to capture the centrality of intergenerational family communication to health across the life span. She conducts narrative-focused translational research to develop messages that can help families learn healthy communication approaches critical to their ability to cope with illness and engage in risk-reducing and health-promoting behavior across generations of family members.
Much of her work focuses on women's health concerns and mother-daughter interaction. She tends to examine intergenerational communication between family members as well as patients and providers to highlight unique developmental needs in health care. Her research largely focuses on two areas: 1) stress and coping – adaptive/maladaptive behavior; and 2) strategic health promotion and risk communication, including long-term health implications of communication.
Her scholarship mostly centers around cancer coping and prevention. She has also examined these issues in geriatric medicine, caregiving in later life, diabetes management and prevention, and the development of disordered eating behavior. She is especially interested in multi-method qualitative designs and triangulating narrative data to develop authentic, lived storied approaches to behavioral modeling tools with the aim of enhancing family-centered psychosocial care. She is currently extending her mother-daughter breast cancer research program to develop behavioral modeling psychosocial interventions that are developmentally and culturally tailored as well as clinical decision-making tools for families at high risk for developing breast cancer.
Courses
Syllabi from the current and three previous semesters: