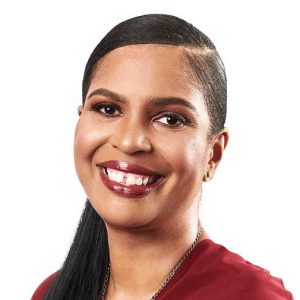 Vanessa Wakeman
Professional-in-Residence - Department of Public Relations
Bio
Vanessa Wakeman is the founder and CEO of The Wakeman Agency, where she shapes narratives and stories that reflect our multicultural world. She has been recognized as one of "50 Game Changers of PR" by PRNews and a "Champion of PR" by PRWeek.
Wakeman's work through her agency focuses on the ecosystem of social change and advancing the efforts of mission-driven causes. Growing up in New York, her activism and commitment to social justice were instilled early on. She organized the workers at her first job, a catering company, to demand and win better labor conditions —when she was only 15. After working her way through college at some of New York City's top law firms, she landed a position at Morgan Stanley. There, she created a record number of career opportunities for women and people of color in the firm's technology department.
Wakeman is a trusted advisor to nonprofit organizations and socially responsible companies in the U.S. and internationally. She has successfully led initiatives to support values-driven transformation and communications for boards of directors, leadership, employees and other stakeholder groups.
She is highly knowledgeable in developing communication strategies, assessing organizational culture, creating safe spaces for difficult conversations, and helping to build frameworks for organizations to cultivate healthy and equitable environments.
During the COVID- 19 pandemic and in the wake of the recent racially motivated murders, Wakeman has been called upon by a number of organizations to help them re-imagine their values, culture and operations, through the lens of racial justice.
As a communications strategist, she has masterminded highly successful engagements for clients that include The Alliance for Financial Inclusion, Drug Policy Alliance, UCLA's Civil Rights Project, Emmett Till Legacy Foundation, The New York Women's Foundation, Hispanics in Philanthropy, and many others.
Wakeman is an outspoken voice on the need for more inclusion and equity in the public relations and nonprofit sectors, while also working to amplify the voices of underrepresented groups in the media. She created She Roars, the first thought- leadership training program designed for women. The Narrative Justice Project soon followed, which is a free media training program developed specifically for people of color. In 2020, she launched Louder Than Words, the first national directory and census for BIPOC-led nonprofits.
In 2021, Wakeman was inducted into the PRWeek Hall of Femme, an honor bestowed on women in public relations. In 2020, she was recognized as one of the 100 Most Influential Black Leaders in New York in City & State magazine's Black Power List.
Wakeman served as a visiting professional-in-residence for the College in 2019-2020 academic year.
News
Courses
Syllabi from the current and three previous semesters: