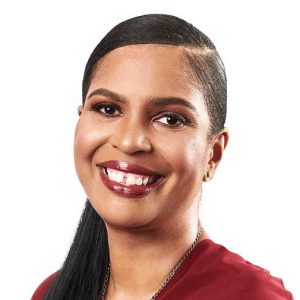 Vanessa Wakeman
Professional-in-Residence - Department of Public Relations
Bio
Vanessa Wakeman, founder and CEO of The Wakeman Agency, is a visionary and futurist in the world of social change.  Recognized as a Champion of PR by PRWeek and one of 50 Game Changers of PR by PR News, she is one of the few black women to found and own a social change agency—helping to shift the paradigm of the industry.
Since launching her social change firm, The Wakeman Agency, Wakeman has served as a champion for nonprofits and progressive social issues, counseling organizations on approaches to generate revenue and build influence.
With deep knowledge about the politics of social change and mastery at advancing the efforts of mission-driven causes, she is a trusted advisor to organizations around the country. She provides powerful insights into the challenges facing the nonprofit community, identifying opportunities to leverage social capital and the emotional pulse of stakeholders to drive notable change.
She has served as chief strategist and masterminded engagements with U.C.L.A.'s Civil Rights Project, YWCA-NYC, New York Urban League, National Domestic Workers Alliance, The Africa-America Institute, Animal Farm Foundation, Help for Children, Metropolitan College of New York, Generation, Emmett Till Legacy Family Foundation, and many others.
Growing up in New York, Wakeman's activism and commitment to social justice were instilled early on. She organized the workers at her first job (a catering company) to demand and win better labor conditions when she was only 15. While working at Morgan Stanley, she re-engineered a technology department and expanded career opportunities for women and people of color. She went on to launch The Wakeman Agency in 2003 without any prior experience in the sector—and rapidly grew the company into a successful enterprise.
Vanessa has been consistently recognized for evangelizing innovation and disruption in the nonprofit sector. She is an outspoken voice on the need for more inclusion and equity in the public relations and nonprofit sectors, while also working to amplify the voices of underrepresented groups in the media. She created She Roars, the first thought leadership training program for women in the nonprofit/philanthropy sector, to foster equity and amplify women's voices.
As a thought leader, Vanessa has been quoted by "ABC Eyewitness News," Crain's NY Business, New York Daily News, Black Enterprise, AM New York, Smart Money, Philanthropy Journal, Chronicle of Philanthropy, and many other outlets. She is a sought after speaker, having recently presented at UN Women, Silicon Valley Council of Nonprofits, Hispanics in Philanthropy, and the Women's Leadership Institute at Manhattanville College.  In 2018 she was profiled in Diverse Voices: Profiles in Leadership, a book showcasing 40 multi-cultural PR leaders.
Wakeman shares her insights through writing, speaking, and her podcast, The Social Change Diaries.  She serves on the Public Relations Society of America Foundation Board of Directors and the Commission for Public Relations Education.
News
Courses
Syllabi from the current and three previous semesters: