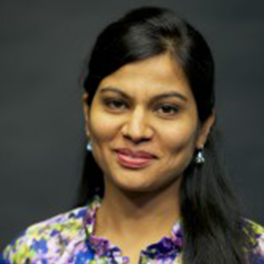 Sarab Kochhar, Ph.D.
Director, Online MAMC Public Relations and Communication Management
Director of Applied Research, College of Journalism and Communications
Bio
Dr. Sarab Kochhar is the Director of Research for the Institute for Public Relations. Dr.  Kochhar has been Director of Research with the Institute for Public Relations since 2014. Her background includes not only significant academic achievements, but also significant practical experience working in public relations in her native India and in the US. She held a major communications position with the Indian government, worked with the Oklahoma Department of Architecture and has held affiliations with Ketchum and Burson-Marsteller. She is also the associate director of measurement and analytics at APCO Worldwide.
Education
University of Florida, Ph.D. in International Relations and Business Strategy
University of Oklahoma, Masters in Strategic Communications and Public Relations
Panjab University, Masters in Mass Communication
News