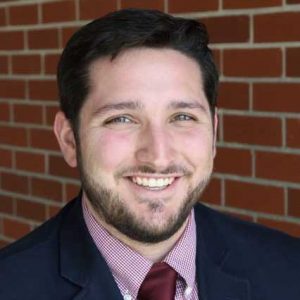 Phillip Arceneaux
Ph.D.
Telecommunication
Bio
Hometown: Lafayette, Louisiana
Phillip is a second-year doctoral student, with research interests in public and digital diplomacy. His research in international political communications and regulation brings him into both the fields of Public Relations and Telecommunications. Specifically, much of Phillip's work involves the implications new media platforms, namely social media, have in the field of international relations. With personal interests in the sports industry, Phillip has also worked in a number of business and communication capacities in athletic departments at LSU, the University of Oregon, and the U.S. Naval Academy, as well as the Louisiana IceGators of the Southern Professional Hockey League.
Education
Master of Science, Communication – University of Louisiana-Lafayette
Bachelor of Arts, Communication Studies – Louisiana State University
Publications
Peer Reviewed Publications:
Arceneaux, P. (Under Review. The rise of Brexit and Trumpism: Typologyzing links between new media, electronic tribalism, and dehumanization. Media, Culture and Society.
 Arceneaux, P. (Under Review). The public interest behind #JeSuisCharlie and #JeSuisAhmed: Social media and hashtag virality as mechanisms for western cultural imperialism. Journal of Public Interest Communication.
Arceneaux, P. (Under Review). New actors and new concerns in the digital approach to diplomacy: A look at NGOs, advocacy groups, and the issues of social media simplification. Hague Journal of Diplomacy.
Arceneaux, P., & Dinu, L. (Under Review). Teaching global competence in a digital age: Twitter and Instagram as potential tools for the internationalization of American curriculum. New Media & Society.
Dinu, L., Auter, P. J., & Arceneaux, P. (2015). Gathering, analyzing, and implementing student feedback to online courses: Is the Quality Matters rubric the answer? Istanbul Journal of Open and Distance Education (IJODE), 1(1), 15-28.
Conference Presentations:
Arceneaux, P. (2017, June). Soft power in a borderless digiverse: The issue of NGOs, advocacy groups, and social media simplification in international law. Paper presented at the 2nd annual CPD-Oxford Doctoral Conference on Digital and Public Diplomacy. Oxford, England.
Arceneaux, P. (2017, May). Teaching global competence in a digital age: Twitter and Instagram as potential tools for the internationalization of American curriculum. Paper presented at the 67th annual Conference of the International Communication Association: Interventions: Communication Research and Practice. San Diego, California.
Arceneaux, P. (2017, March). International disengagement in Western democracies: How Brexit and Trumpism have led the way through dehumanization. Poster presented at the 108th annual Convention of the Eastern Communication Association: Freedom to, Freedom from. Boston, Massachusetts.
Arceneaux, P. (2017, March). Close the gates and guard the walls: The United Kingdom and United States as leaders of international disengagement. Poster presented at the 2nd annual University of Florida College of Journalism and Communications Research Symposium. Gainesville, Florida.
Arceneaux, P., Auter, P. J., & Dinu, L. (2015, November). Paperwork and people work: Strategies for building administrative support and faculty consensus toward an online program. Paper presented to the 14th International Conference on Information: Development, Economic Prosperity, and Good Governance. Mansoura: Gamasa, Egypt.
Arceneaux, P., Makady, H., & Auter, P. J. (2015, October). Social networking or social not working: Social networks as modifiers of acculturative stress and depression in Middle Eastern international students in the American Deep South. Paper presented at the of the Annual AUSACE Conference of Arab-U.S. Communication Educators, Doha, Qatar.
Research
Doctoral Advisors: Dr. David H. Ostroff – Ohio University
Dr. Spiro K. Kiousis – University of Texas
Master's Advisors: Dr. Lucian F. Dinu – University of Alabama
Dr. T. Micheal Maher – University of Texas;
Dr. William R. Davie – University of Texas
Phillip's research interests revolve around the shift of public diplomacy practice to online platforms, more recently coined as digital diplomacy, as well as legal measures for the regulation of such behavior. Specifically, this new perspective of digital diplomacy attempts to better understand the role new media, primarily social media, play in the evolving relationship between traditional diplomatic actors, newer non-traditonal diplomatic actors, and public audiences both foreign and domestic. His research is geared toward analyzing the efficiency such online behavior allows for the formation and dissemination of foreign policy to members of the general public. Phillip's research also addresses telecommunication issues of regulating such online behavior, utilizing elements of both international law and United States communication law to analyze, critique, and improve upon existing international regulatory systems.
Courses
Phillip's teaching interests revolve around three main fields, 1) new media studies, 2) international communication systems, and 3) college prep/readiness. With both a background in the field and teaching experience, Phillip's primary teaching interest involves helping students to better recognize and understand the way mass social media use is fundamentally changing society in general, as well as specific industries of business and communication. Additionally, being situated in a telecommunications department, much of his graduate background has involved the history of mass communication systems and its evolutionary development into the current international landscape we have today. Lastly, with experience working in a First Year Experience program, Phillip maintains a passionate interest in helping students in more general coursework geared toward developing students to be successful in college and in life, whether they have communication-based career aspirations or not.
University of Florida:
Sole Instructor: MMC 3630: Social Media & Society
Teaching Assistant: RTV 4930: Social Media Management
MMC 3630: Social Media & Society
MMC 1009: Introduction to Media and Communications
University of Louisiana-Lafayette:
Co-Instructor: UNIV 100: First-Year Seminar