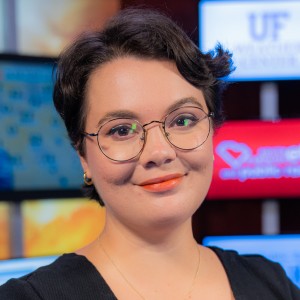 Melissa Feito
Multimedia Producer - Division of Media Properties Florida Public Radio Emergency Network
Bio
Melissa Feito joined the Division of Media Properties in May 2022 as the Multimedia Producer for the Florida Public Radio Emergency Network and the South Carolina Emergency Information Network. Her role is to cover the human impact of extreme weather with a focus on preparation and recovery.
While a graduate student at the UFCJC, she worked in the Innovation News Center at WUFT 89.1/90.1 as a producer for the on-air afternoon public radio program All Things Considered and a producer for award-winning WUFT podcasts The Point and The Rewind. She also worked as a producer for the weekly public radio program Interfaith Voices from 2017 to 2019.
Born and raised in Miami, Melissa knows the beauty and the power of our state's climate. She is passionate about journalism as a public service. Her love for public media comes from listening to Morning Edition on her way to school as a child, and the dream of working in radio never let her go. When she's not plugged into a soundboard, she likes exploring Gainesville, playing with her tuxedo cat Remy and taking daytrips to theme parks.
Education
M.A. in Mass Communication, University of Florida College of Journalism and Communications, 2022
B.A. in English, Tufts University, 2016
News