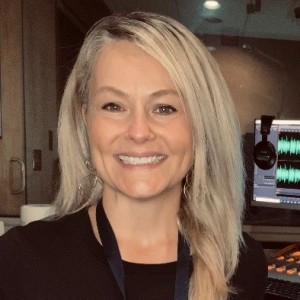 Heather van Blokland
Executive Producer/Host - Division of Media Properties
Bio
She had been an on-air host and business/feature reporter for KJZZ-FM, the NPR station for the Phoenix, Arizona market, between 2016 and 2021.  Prior to that, she had been a host and freelance reporter for Oregon Public Broadcasting. Van Blokland's audio feature reporting has aired on NPR's Morning Edition, Marketplace Morning Report, BBC Business Matters and WBUR's Here and Now, among others. She is also the creator and host of a weekly business news video short, posted to YouTube.
While a master's student at UFCJC, she was a features reporter and newscaster for WUFT-FM. During that time, she wrote, edited and produced a five-part investigative series on citrus greening covering nine counties across Florida, and was local host and anchor of  NPR's "Morning Edition."
Van Blokland, a Gainesville native, was nominated twice for the prestigious Edward R. Murrow Awards in the Feature Reporting/Hard News category, first in 2019 for "China's Policy Shift Forces Flagstaff to Scrap Recycling Efforts," and again in 2021 for "Pushed for Increased Body Camera Use Double-Edged Sword." In 2014, she won the AP Florida Press Award for Top Newscaster.
Education
M.A.M.C. 2014, University of Florida
News