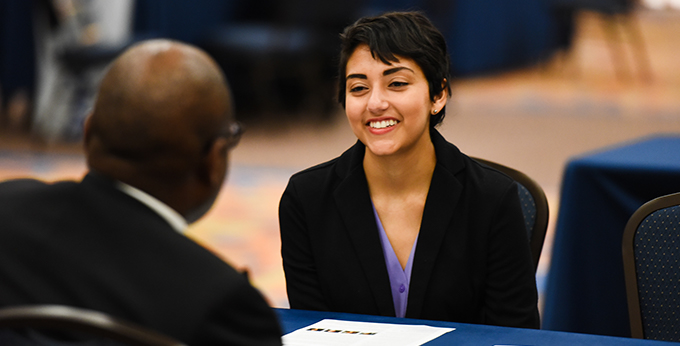 How to Apply
Students applying to the university for the first time (freshmen and transfers) should refer to the UF Admissions website for information: www.admissions.ufl.edu.
Freshman Information: The university's Office of Admissions coordinates freshman admission.
Minimum Admission Requirements
Graduation from a regionally accredited or state-approved secondary school or the equivalent (G.E.D., etc.).
Sixteen academic units, distributed as follows:

English (with substantial writing) – 4 years
Mathematics (Algebra 1, Formal Geometry, Algebra 2) – 4 years
Natural Sciences (two units must include laboratory) – 3 years
Social Sciences – 3 years
Foreign Language (must be sequential) – 2 years

A cumulative C average in the academic core, as computed by the university, at all institutions attended, including both high school and college.
Students taking dual enrollment courses must present a minimum 2.0 GPA at every institution attended.
A record of good conduct. Major or continuing difficulty with school or other officials may render an applicant ineligible regardless of academic qualifications.
At least the minimum score in each section of the SAT for students entering before fall 2017: Critical Reading= 500, Mathematics=460 and Writing= 440. Effective with the fall 2017 entering class, the university will require the following minimum scores on the redesigned SAT: Evidence-Based Reading and Writing = 500 and Math = 500.
On the ACT, a minimum score of 19 on the Reading section and 19 on the Math section.
All applicants must submit the SAT or the ACT test. While UF cannot mix scores from old and new tests, the university will accept the highest subscores from the SAT if you took the test multiple times. The university cannot mix or combine any ACT subscores.
Transfers
Transfer Information: The College of Journalism and Communications at the University of Florida is a limited admissions college. All transfer applicants will be considered on a space-available basis. View our Transfer Admissions handout (PDF).
A grade point average of 2.5 (on all work attempted) and the AA degree from a state/community college in Florida are required for transfer admission. Out-of-state transfer students must complete 60 hours of acceptable credit and the university's general education requirements.
"An AA graduate from a Florida public postsecondary institution shall receive priority for admission to a state university over out-of-state transfer students." – Florida Board of Governors articulation agreement
Students denied admissions may petition. Petitions are available from PATH: Professional Advising and Teaching Hub, 1060 Weimer Hall.
The following five courses are required for transfer students to be admitted:
ENC1102 – Argument and Persuasion
AMH2020 – American History since 1877
POS2041 – American Federal Government
STA2023 – Introduction to Statistics
ECO2013 – Principles of Macroeconomics
Attention Advertising & Public Relations Majors: PSY2012 General Psychology is accepted in lieu of POS2041
Notes regarding MMC 2100 "Writing for Mass Communication"
Advertising majors:  Advertising students are required to take MMC 2100.  MMC2100 taken at the state/community college will be accepted.
Telecommunication majors: The Dept. of Telecommunication accepts MMC2100 from the state/community college in lieu of RTV2100 – Writing for Electronic Media. Otherwise all admitted Telecommunication transfer students must take RTV2100 in their first semester at UF. Entry into the broadcast news sequence is limited to students in the Department of Telecommunication who have passed a test to evaluate writing ability. Contact the department office to determine when the writing tests are given. Both courses require students to have a typing proficiency of at least 20 words per minute or personal computer skills.
Journalism and Public Relations majors: All students admitted into the Journalism and Public Relations programs will be required to take JOU3109c at UF.  MMC2100 taken at the state/community college will not be accepted in lieu of JOU3109c.
Undergraduate Admission Deadlines
Application deadlines below are for undergraduate transfer applicants and undergraduates seeking readmission:
Summer B / Fall 2016 – March 1, 2016
Spring 2017 – Sept. 16, 2016
Summer A/C 2017 – Feb. 1, 2017