CJC Diversity Task Force Info Session: Open to ALL Students!
Posted: September 22, 2016
Students are invited to participate on a Diversity Task Force. Email CJCDiversityTaskForce@gmail.com.
Category: Student News
Endowment Established Fund for Sports Media and Communications Internships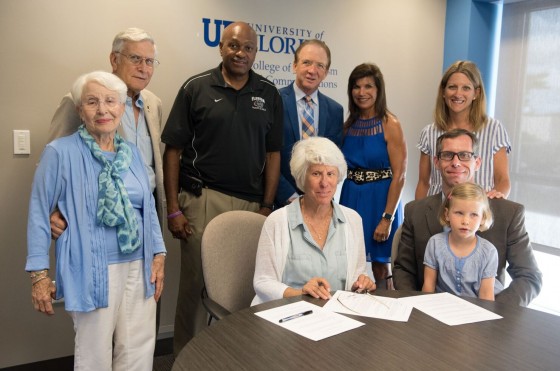 Posted: September 22, 2016
The G. Paul Smeyak Sports Journalism and Communications Internship Endowment was recently established to help fund Sports Media and Communication internships for University of Florida College of Journalism and Communications students. The $50,000 endowed gift, the first of its kind for the College's sports journalism program, was donated by Smeyak family members, wife Corky and son Stephen. Dr. Smeyak served as chair of the CJC  Telecommunication Department for 18 years before completing his career as Director of the School of Journalism at Oklahoma State University. He devoted much of his time to helping UF scholar/athletes excel in their course work…
Category: College News
The Intercept and the Orlando Sentinel Win 2016 ONA Investigative Data Journalism Awards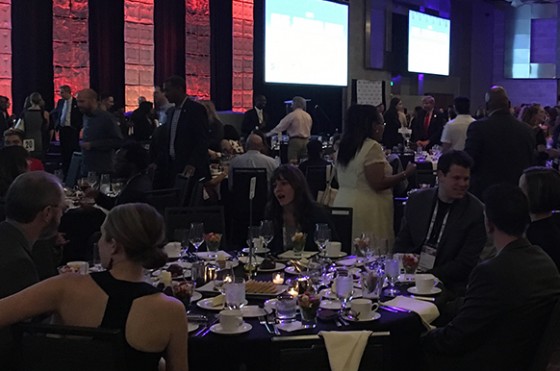 Posted: September 19, 2016
Denver – Sept. 17, 2016: Two news organizations received the third annual University of Florida Award in Investigative Data Journalism at the Online News Association Online Journalism Awards on Sept. 18. One award recognized an investigation of secret documents detailing a covert U.S. military overseas assassination program and the second award honored a report on excessive police brutality. The two $7,500 awards honor high-impact data journalism that is exceptionally well presented. The awards are the largest individual prizes offered by ONA. In the Small/Medium category, The Intercept won for The Drone Papers. The series focused on a cache of secret…
Category: College News
Tagged as: ONA 2016, Online Journalism Awards, Orlando Sentinel, The Intercept
New Career Planning Hours for the Fall 2016 Semester
The National Association of Television Program Executives Seeks Conference Interns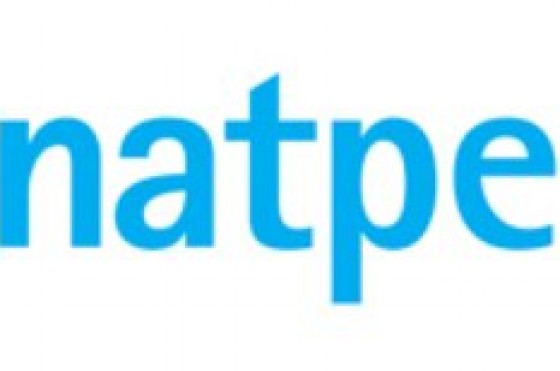 Posted: September 15, 2016
The National Association of Television Program Executives annual NATPE Market & Conference is the only American program market serving the worldwide television community. Companies and individuals involved in buying, selling, developing, financing, advertising, marketing or licensing content; implementing technology; exploiting rights; or leveraging media assets, attend the annual Market & Conference each January. Conference interns help with information distribution, registration, seminar seating, publications and other assignments that make the event go smoothly. The conference is not open to the public thus the student interns receive a unique, behind-the-scenes view of the television industry. Interns put in long hours, including walking…
Category: Student News
Dow Jones Newsfund Internships!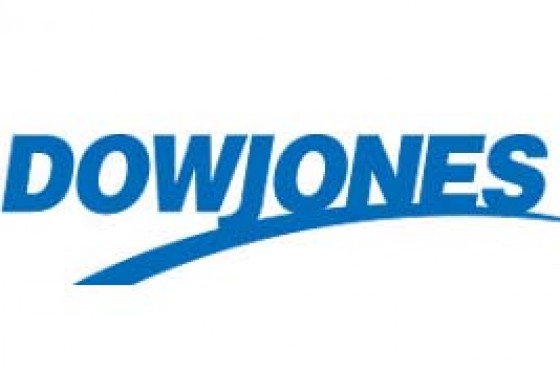 Posted: September 15, 2016
You can apply to win one of more than 100 terrific, paid summer journalism internships at prestigious news organizations through the Dow Jones News Fund. The internships require: Completing an online application at http://collegeinternship.dowjonesnewsfund.org/ Taking a timed exam. UF will administer the one-hour test starting prompting at 2:00 p.m. on Oct. 20 and 21. Register for one of those dates (or both, if taking both tests) in the Journalism Department office. Deadline to apply is Oct. 20. These internships are in four areas: Data Journalism Digital media Business Reporting Interactive News Editing You can apply for more than one type…
Category: Student News
CJC Student Andrew Briz Wins National Innovative Technology Award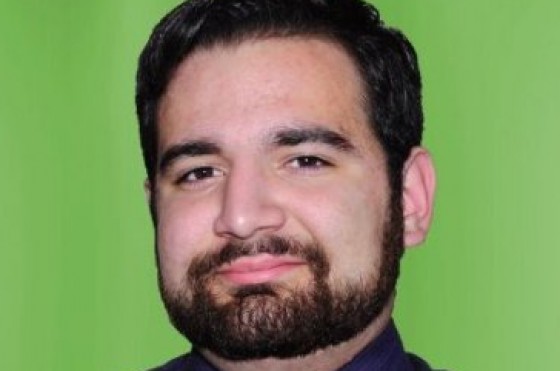 Posted: September 8, 2016
Andrew Briz, 3TEL, was selected for one of only three 2016 Excellence in Innovative Technology (EIT) Awards from the National Association of Broadcasting Education Foundation (NABEF). The EIT award recognizes extraordinary students impacting and promoting technology in the media industry. Entrants submit a design that relates to television, radio, digital, mobile technologies, social media, streaming, information management, web or other telecommunication-based applications and must be able to present a working prototype that has been deployed and/or tested. Briz's entry features a hypervideo web application that displays traditional video frames and allows for the easy addition of common journalism web graphics.…
Category: College News
Tagged as: Andrew Briz, Excellence in Innovative Technology (EIT) Awards, NABEF, National Association of Broadcasting Education Foundation
Jeff Darlington Joins ESPN as Reporter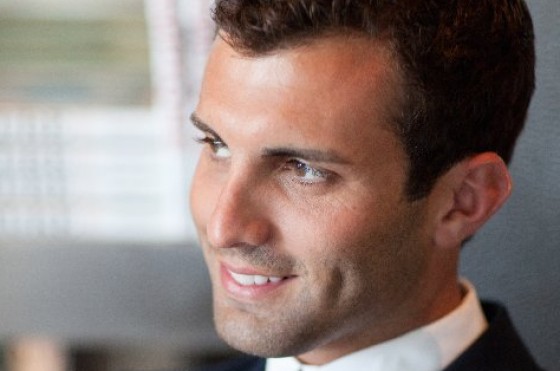 Posted: September 8, 2016
Award-winning journalist Jeff Darlington, B.S. Telecommunication 2004, joined ESPN on Sept. 1. In his new role he will serve as a reporter for SportsCenter and on multiple ESPN platforms. Since graduation in 2004, Darlington was the sports beat reporter for the Orlando Sentinel, The Palm Beach Post and the Miami Herald from 2006-2011. While at the Herald, Darlington began to appear on ESPN programs covering the NFL. For the past four years he served as a national field reporter for the NFL Network and has covered 10 Super Bowls and more than 200 NFL games. Darlington has won two Associated…
Category: Alumni News
Tagged as: Associated Press Sports Editors, ESPN, Jeff Darlington
Defining Moments: Lainey Johnson Garcia, B.S. Public Relations 2008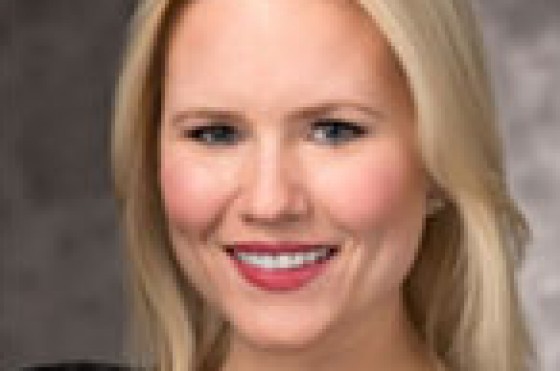 Posted: September 7, 2016
Lainey Johnson Garcia considered herself an "impressionable" undergrad and one class with Dr. Mary Ann Ferguson left an impression that she would carry throughout her career. Dr. Ferguson encouraged her students to consider the role of business to be a force for good in the world and as communicators, to champion positive brand stories rooted in meaningful corporate social responsibility efforts. Since graduation from UF, Garcia has taken this advice to heart and is a champion for corporate responsibility. In her current role, she considers it a privilege to publicize the positive changes McDonald's continues to make to their food…
Category: Alumni News
Tagged as: Defining Moments, Lainey Johnson Garcia, Public Relations
Rita Men Named Plank Center for Leadership in Public Relations Scholar
Posted: August 31, 2016
UF College of Journalism and Communications (CJC) Public Relations Assistant Professor Rita Men, Ph.D., APR, has been named a scholar of the Plank Center for Leadership in Public Relations. Dr. Men will be one of 12 scholars, each serving a five-year term. The Plank Center at the University of Alabama is a leading resource for public relations practitioners, educators and students. Its mission is to help develop and recognize outstanding, diverse public relations leaders, role models and mentors to advance ethical public relations in an evolving, global society. The Plank Scholars are chosen based on their academic credentials, strong teaching…
Category: College News
Tagged as: Linda Hon, Milestone in Mentoring Award, Plank Center for Leadership in Public Relations, Plank Scholar, Rita Men