Dr. Carrie Miller
Assistant Professor, Department of Public Relations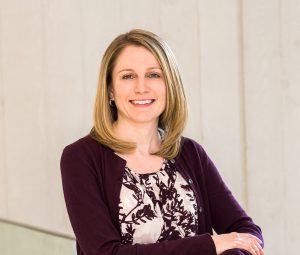 What are you teaching this semester?
I am teaching Grant Writing (COM 6571) this fall.
What is your area of expertise?
My area of expertise is behavioral and population science, primarily in the field of cancer prevention and control. My research is focused on developing novel interventions which leverage communication and digital technologies to improve cancer-screening uptake and awareness.
What research are you working on?
I am currently preparing a proposal seeking to develop a novel, tailored telehealth intervention aimed at reducing racial and geographic disparities in breast cancer screening.
Significant other, children, pets?
Yes, all of the above! I am married to my high school sweetheart and have two daughters (6 and 8).
What excites you most about coming to Gainesville?
I am looking forward to spending more time outdoors in the warmer Florida winters. I'm also excited about experiencing the local attractions, like the springs, beaches, Disney, and Gator Nation sports!
What accomplishments, personal or professional, are you most proud of?
As a #firstgen college graduate, I'm proud of the obstacles I've overcome in reaching my professional goals. However, my family is my greatest accomplishment.

Tagged as: Carrie Miller