METL Students Recap 2019 Summer Internships
GAINESVILLE, Fla, Sep. 24 By Brock Shine – A month of the UF fall semester has passed, and the students of METL are hard at work once more. To celebrate the success of last year's hard work, three students documented their summer internship experiences.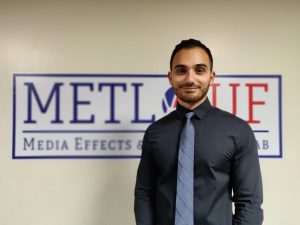 Ricardo Amaya, who last semester was heavily involved in the DUD project which was presented at the World Journalism Education Conference (WJEC) in Paris, interned at CBS Interactive this summer. Amaya contributed to an interactive video team, providing code for video streaming API and a video management system. This included the opportunity to work with tools he had not previously used, such as Amazon Web Services.
Most importantly, Amaya says that being a part of the METL allowed him to be more confident in his computer science skills. This has allowed Ricardo to begin development on entirely new hardware, such as the Magic Leap One spatial computing headset.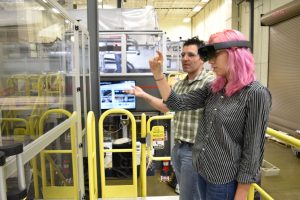 In parallel fashion, Jamie Westfall also participated in a computer science internship, working for Oak Ridge National Laboratory. Westfall's internship activities ranged from using Unity Engine to create Augmented Reality interfaces to assisting with User Experience (UX) design. She says most of her time was spent working with the Microsoft HoloLens headset, where she learned how to go about asking questions when testing a project's features.
"Most people have never used the HoloLens before, so it's important to include a tutorial explaining the controls, and then ask questions to determine any confusion with using the device," Westfall said.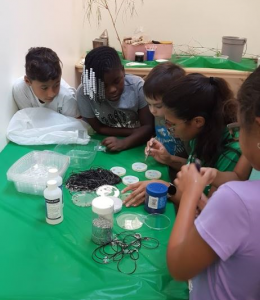 The third METL student who participated in an internship, Destiny Cardentey, took two separate internships this summer. The first, a UF and IFAS partnered, 4-H internship, focused on developing a bug camp for children ages 6 to 11. Cardentey drafted social media posts, created lessons for the camp and worked as one of three teachers once the camp started.
"Starting a camp with kids who were afraid of some insects, and then ending with them being more curious and comfortable around insects was a rewarding feeling," Cardentey said.
The second internship, a learning experience program with Zoo Miami, gave Cardentey an opportunity to shadow zookeeper talks, and it also allowed her to work on a children's outreach program with Carnival. The outreach program focused on assisting underrepresented students in fourth and fifth grade. Cardentey says her favorite parts of the Zoo Miami internship were the animal encounters, including the chance to enter a sloth enclosure.
As Amaya, Cardentey and Westfall move through their upperclassmen years of UF, these experiences will remain crucial to their academic development, while remaining equally helpful experiences for METL. As usual, the lab looks forward to sharing more news about upcoming projects.
Posted: September 27, 2019
Category: Internships, News
Tagged as: augmented reality, computer science, environmental, Internship, programming, social media, undergraduate