Dr. Kumaran, Sr. Scientist in Epidemiology from the UK, Visits the METL
Dr. Kumaran and lab staff participated in an engaging discussion following a presentation of existing lab projects by METL Director, Dr. Sri Kalyanaraman. Of the many ongoing research initiatives currently underway at METL, there were specific ones that stood out to Dr. Kumaran during last week's visit. Specifically, projects exploring the use of virtual reality (VR) to encourage healthy eating and overall physical well-being provided the most potential for collaboration given Kumaran's work at the University of Southampton, where he currently serves as a Senior Scientist in the MRC Lifecourse Epidemiology Unit.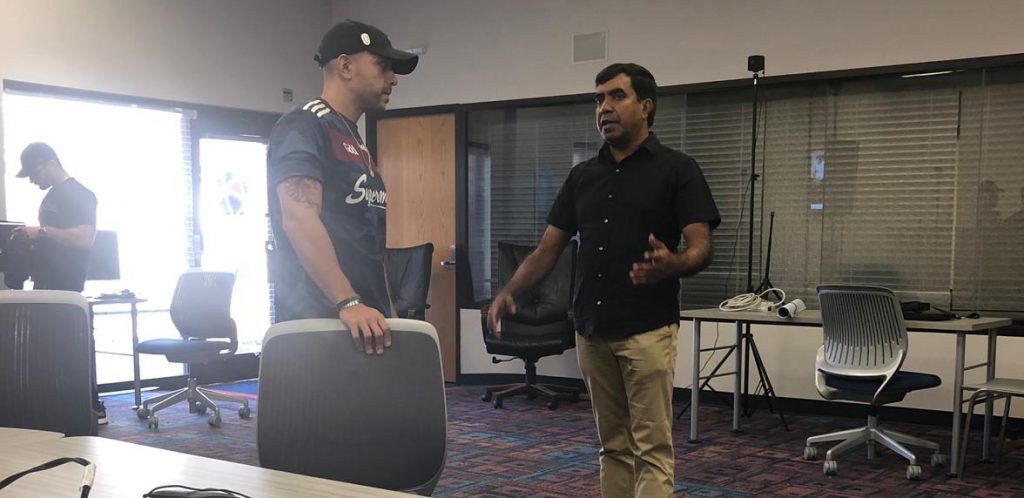 Dr. Kumaran's research focuses on the application of various interventions to reduce health inequalities and improve access to healthcare, broadly. His interest in translating research into practice led him to undergo formal training in public health in the UK between 1999 and 2004. During this period, he obtained an MSc in Public Health and the membership of the Faculty of Public Health. More recently, his focus has shifted towards developing interventions that help communities make more informed dietary choices. With a shared interest in promoting healthy eating, both the METL and Dr. Kumaran are excited about the prospect of potential collaborations emerging from the visit.
According to the University of Southampton's website, " Upon completing his undergraduate medical degree at Karnatak University, India, Dr Kumaran was involved in the collaborative studies on the fetal origins of adult disease between the MRC Unit, Southampton and Holdsworth Memorial Hospital, Mysore between 1994 and 1998." Afterwards, Dr. Kumaran obtained a DM from the University of Southampton based on the work in Mysore.
For more information about Dr. Kumaran, please visit his university page.
Posted: April 30, 2019
Category: Uncategorized