METL Students Return from Summer Internships with U.S. Dept. of Energy, Tech Startups
Jamie Westfall, Ricardo Amaya, and Daniel Pimentel spent much of the Spring semester in the Media Effects & Technology Lab (METL) building virtual reality (VR) simulations for use in a variety of research projects. Over the summer, the three students secured internships that allowed them to apply their development, research, and project management skills to real-world projects in a variety of disciplines, including 3D modeling, behavior therapy, and industrial training/education. The students recap their experiences below: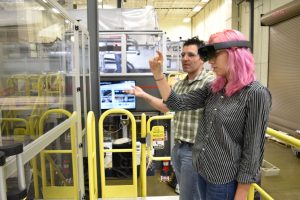 Jamie Westfall (4th year, Computer Science)
Computer Science Intern, Oak Ridge National Laboratory, US Dept. of Energy (Oak Ridge, Tennessee)
What was the day-to-day life like at the internship?
Oak Ridge National Laboratory is the largest US Department of Energy science and energy laboratory, conducting basic and applied research to deliver transformative solutions to compelling problems in energy and security. In the first half of the internship, I was working on developing a new slicing software. Slicing software takes a 3D model and generates all of the necessary information that a 3D printer needs to be able to build the part, including the paths the machine will move, how many layers should be created, adding infill and supports, etc. Later on in my internship I got to work with the HoloLens, an augmented reality (AR) headset. I created a program for the HoloLens used to demonstrate its potential usefulness at the MDF (Manufacturing Demonstration Facility) for data visualization.
How do you think the internship will help your career?
Making contributions to a large-scale project helped me develop my coding practices. Working with a team prepared me for designing software with a long lifetime- typically in school projects, code does not necessarily have to be reusable, and readability is not important for individual assignments.
How did being a part of the METL help you land (and prepare for) this internship?
Most of my knowledge of Unity and C# is a direct result of my involvement in the Media Effects and Technology Lab. Working on VR projects for the lab has prepared me for the process of creating a virtual experience from start to finish- in addition to the technical skills I've gained, I've also learned more about UI/UX design and digital storytelling. Being a part of the lab played a major role in my selection for the internship- having research experience and recommendations from METL's leadership is the sole reason I got this opportunity.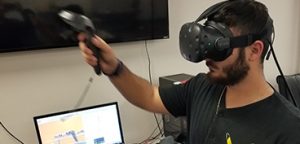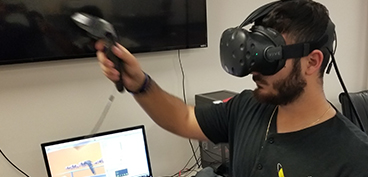 Ricardo Amaya (3rd year, Computer Science)
Undergraduate Intern, BehaviorMe (Gainesville, Florida)
What was the day-to-day life like at the internship?
BehaviorMe is a local startup that is using virtual reality (VR) and other emerging technologies to help behavioral therapists deliver effective interventions that improve the quality of life of young people. Being that it was a startup, the environment was new and exciting, and my primary roles consisted of play testing and debugging the company's simulations and offering possible solutions when needed. It was a very fun and relaxed environment to work in. The office was split among the founders and developers most days, with everyone just working together and conversing.
How do you think the internship will help your career?
This internship was my first introduction to the startup culture that modern companies go through. It is fast paced and exciting, and I feel that it prepared me for either starting my own business, or entering a similar organization. Besides finally being able to put some work experience on my resume, the experience that I gained in terms of working with a team I believe will prepare me greatly in all of my future endeavors both during and after my time here at UF.
How did being a part of the METL help you land (and prepare for) this internship?
The networking and connections that I gained by working in the METL definitely played a pivotal role in me landing the internship. And the professional experience that I gained from my time in the METL, in terms of both working with teams and developing immersive experiences (e.g., VR simulations), prepared me greatly for my internship, and will continue to help me in the future.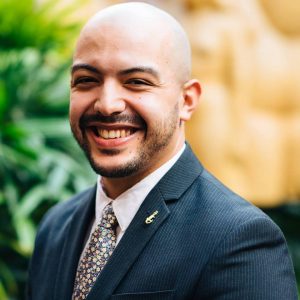 Daniel Pimentel (4th year, Ph.D. Student)
Doctoral Intern, VR Americas (Miami/New York)
What was the day-to-day life like at the internship?
VR Americas (VRA) is a cutting-edge start-up using immersive technologies, such as virtual reality (VR) and augmented reality (AR) to train individuals in high-risk industrial occupations. After joining VRA, I immediately felt part of the team, and was constantly learning from a diverse team of innovators in business, education, and computer science. I also felt inspired on a daily basis, as the company is a great example of how Latinx innovators can be at the forefront of using new and emerging technologies to find solutions to complex, global problems. I worked closely with staff in New York and Miami on developing augmented reality (AR) demos related to industry training, while also gaining hands-on experience on how to measure performance and learning outcomes.
How do you think the internship will help your career?
The internship gave me a unique perspective on the differences (and similarities) between academic and industry approaches to human-technology research. The fast-paced environment also allowed me to streamline my workflow, and improve my project management abilities, which is an invaluable skill considering my role as METL coordinator, overseeing over a dozen research projects. This internship also afforded me the opportunity to develop interactive mobile AR applications, a skill that I will further build upon when creating AR apps for use in future experimental research (e.g., stimuli development).
How did being a part of the METL help you land (and prepare for) this internship?
Being a part of the METL has changed my life for the better, and has allowed me to gain hands-on experience in all aspects of experimental research. That is, as lab coordinator I have built and programmed my own simulations, conducted my own experiments, analyzed data, extracted insights, and communicated these insights to a variety of audiences. As part of the VRA team, these skills allowed me to contribute to ongoing projects and deliver value.
Posted: August 30, 2018
Category: News, Uncategorized