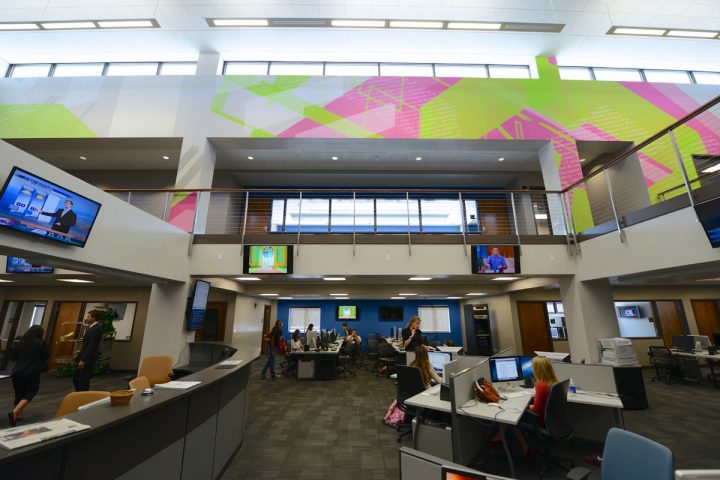 CJC at a Glance
The College of Journalism and Communications at the University of Florida is one of the largest combined colleges of journalism and communication in the country. With its exceptional breadth and depth, UF's CJC is a premier academic community located at the intersection of rigorous storytelling and data sciences, journalistic excellence, strategic communication, social impact and public service.
Fast Facts
 Founded: 1925 (Department of Journalism); 1953 (School of Journalism and Communications); 1968 (College of Journalism and Communications)
Total enrollment for Fall 2019: About 3,000
Faculty: 72
Four Academic Disciplines: Advertising, Journalism, Public Relations, Telecommunication
Distance Learning: 8 online master's programs, 4 online certificates
Graduation Rate: 81% (4-year undergrads), 87% (2-year master's)
Internship Rate: 85%
Student Diversity: 43% non-white
Media Properties: 2 TV, 5 radio and companion websites; PBS, NPR and ESPN affiliates
Living alumni: 33,000+
What Makes UFCJC Stand Out
One of the pioneers of the "teaching hospital" method of communication education that bridges faculty research with student experience in real-world venues serving various communities
Uses a science-based approach to studying, teaching, testing and practicing storytelling with a particular focus on social change
Hub for teaching excellence—four CJC professors have been named the UF Teacher of the Year in the past 11 years
Provides one of the most extensive immersion experiences for news, sports and weather across seven media properties housed at the College
Is one of the only colleges with a working strategic communication agency developing campaigns, creating strategies and conducting research for clients
Boasts the second highest internship rate at UF (85 percent of our graduates had at least one internship in their academic career, 60 percent had two or more)
Includes the only STEM Translational Communication Center at a U.S. university
Possesses the most cancer communication scholars of any University
Is the only academic institution with a Center for Public Interest Communications and the only endowed chair in field of public interest communications
Hosts the largest annual gathering for social change communicators and communication scholars
Offers endowed programs focused on First Amendment and freedom of information issues
Houses one of the largest data journalism and coding programs in the U.S.
Includes a Media Effects and Technology Lab that explores the use of immersive technology to improve communication, particularly around social issues
Is the only organization in the U.S. operating a statewide public radio emergency network, now supporting both Florida and South Carolina.
 Key Areas of Focus
Communication Technology
First Amendment and Media Law
Investigative Journalism Health and Science Communication
International Communication
Media Effects
Media Industry and Consumers
Social Change Communication
Sports Communication
Strategic Communication
Centers and Endowed Programs
Brechner Center for Freedom of Information
Center for Public Interest Communications
Consortium on Trust in Media and Technology
Marion B. Brechner First Amendment Project
STEM Translational Communication Center
Thought Leadership
 Events
frank gathering
Becoming a Woman of Influence
Great Storytellers
Climate Communication Summit
Shared Insights (2018-19)
80+ peer-reviewed
120+ conference papers
60+ faculty and staff articles in mainstream publications
Professional Skills Development
 Immersion
The Agency: An integrated, strategic communications firm
The Innovation News Center: A multi-platform news operation
Seven TV, radio and digital properties
Fresh Take Florida: State government investigative journalism team
GatorVision: University Athletic Association media operations
Experimentation
Media Effects and Technology Lab
GHQ entertainment and information R&D lab
In-class and student-run
Elevate Agency: A student-run advertising firm
Alpha Productions: A student-run public relations agency
Orange and Blue: A student-run magazine
ChomPics: A student-run online video and broadcast productions
Capstone campaign classes for Advertising and Public Relations students
Journalism and Broadcasting Awards (2017-19)
 Hearst Journalism Awards: 50
Florida AP College Broadcasting: 51
Florida AP Professional Broadcasting: 31
SPJ Regional Mark of Excellence: 85
Regional Edward R. Murrow Awards: 18