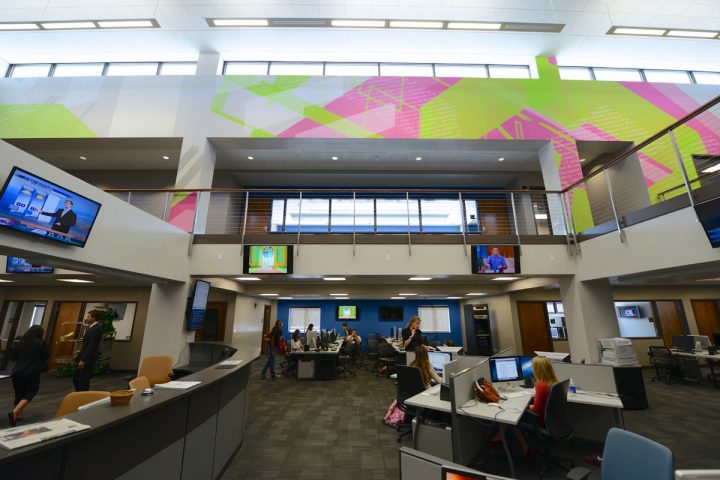 CJC at a Glance
The UF College of Journalism and Communications is one of the largest and most comprehensive communication programs in the nation.  Very few communication programs have the breadth and depth of UFCJC, with both undergraduate and graduate programs, four undergraduate majors, a focus on both research and professional skills development and the breadth of immersion opportunities available here.
We also are one of the oldest institutions employing the "teaching hospital" method of communication education. This approach bridges faculty research on effective storytelling with student experience in real-world venues and practical application under the guidance of seasoned professionals to make a difference in industry and in our communities.
This fall, we created 15 new faculty positions and hired 10 professionals and five scholars, an unprecedented infusion of new faculty at any communication program.
Quick Facts
Founded: 1925 (Department of Journalism); 1953 (School of Journalism and Communications); 1968 (College of Journalism and Communications)
Disciplines: Advertising, Journalism, Public Relations, Telecommunication
Enrollment*: 3,000+
Distance Learning: 7 online master's programs, 5 online certificates
Graduation Rate: 74% (4-year undergrads), 72% (2-year master's)
Internship Rate: 80%
Faculty: 44 research, 24 professional
"Teaching Hospital" Professionals: 21
Student Diversity: 43% non-White
Media Properties: 2 TV, 5 radio and companion Web sites; PBS, NPR and ESPN affiliates
Living alumni: 32,000+
*Fall 2018; includes undergraduate, graduate and online programs.
What We Do
Teach students fundamental principles in their chosen discipline and the professional skills needed for a changing media environment
Provide students with opportunities to work alongside professionals in a real-world newsroom, strategic communication agency, broadcast and digital properties as well as experimental labs
Conduct research for industry and academia on effective story-building and storytelling to inform, entertain, persuade and move people to action
Conduct translational communication research to help convey complex science into accessible information and practical applications
Prepare the next generation of communication scholars
Help working professionals enhance their skills
Use our research and practice to help drive positive social action
What Makes Us Standout
Studying, teaching, testing and practicing storytelling grounded in science, particularly for social change
Teaching excellence: four UF Teachers of the Year in the past 11 years
One of the most extensive immersion experiences for news, sports and weather across seven media properties housed at the College
One of the few colleges with a working strategic communication agency developing campaigns, creating strategies and conducting research for clients
Second highest internship rate at UF (80 percent of our graduates had at least one internship in their academic career, 65 percent had two)
Only U.S. College with a STEM Translational Communication Center
Most cancer communication scholars of any University
Only U.S. College with a Center for Public Interest Communications and only endowed chair in emerging field of public interest communications
Largest annual gathering for social change communicators and communication scholars
Endowed programs focused on First Amendment and freedom of information issues
One of the largest data journalism and coding programs in the U.S.
New Media Effects and Technology Lab exploring the use of immersive technology to improve communication, particularly around social issues
Only organization in the U.S. operating a statewide public radio emergency network.
Key Areas of Focus
First Amendment and Media Law
First amendment and freedom of information
Media and technology law and policy
Health and Science
Impact of media on health issues
Health-related persuasion and empowerment
Effective dissemination of health information
Using emerging technology for patient education
Media and Audience
Media effects of new technology platforms
Digital marketing communication
Persuasive visual communication
Emotional responses to advertising
Media management and audience analytics
Mobile media engagement
Social Good
Fact-based journalism for an informed citizenry
Strategic communication for social change
Digital activism and grassroots public relations
Corporate social responsibility
Using virtual reality to drive social change
Centers and Endowed Programs
 Examples of Recent Research Findings
Digital gaming can effectively teach people to avoid bias
Organization's "emotional culture" can contribute to its success
Social media could be effectively employed for health promotion and outreach efforts
Changing attitudes of physicians may improve participation in cancer clinical trials
Reactions differ to humor and fear in anti-alcohol ads
Suggested techniques for reducing the effects of viewing violence in media through counter media narratives
Professional Skills Development Opportunities
 Immersion
The Agency strategic communication agency
Innovation News Center multi-platform news operation
Seven TV, radio and digital properties
GatorVision (University Athletic Association media operations)
Consumer media behavior research related to media properties
Experimentation
Hatch content and product incubator
Media Effects and Technology Lab
GHQ entertainment and information R&D lab
In-class and student-run
Ad Werks student-run advertising agency
Alpha PRoductions student-run public relations agency
Orange and Blue student-run magazine
ChomPics student-run online video and broadcast productions
Capstone campaign classes for Advertising and Public Relations students
Journalism Awards (2017-18)
 Florida AP College Broadcasting:  18
Florida AP Professional Broadcasting: 10
Hearst Journalism Awards: 12
SPJ Regional Mark of Excellence: 35
Regional Edward R. Murrow Awards: 5
Complete list of news awards: https://www.jou.ufl.edu/home/about/news-awards-2-2/
Thought Leadership
 Events
frank gathering of public interest communicators and scholars
Shared Insights
80+ peer-reviewed articles in academic journals
120+ presentations at academic conferences
60+ faculty and staff articles in mainstream publications
Speakers
More than 200 high-profile speakers since 2014
Key Highlights from 2017-18
Re-accredited by the Accrediting Council on Education in Journalism and Mass Communication
Received University funding for 15 new faculty hires
Public Interest Communications program conferred with Center status
National Freedom of Information Coalition to re-locate to CJC
Established partnership with News Integrity Initiative to examine what research from multiple academic disciplines tells us about community engagement and trust in news
Students and College won more than 100 national and regional news award
College wins Public Information Award for its hurricane coverage
Raised more than $3.5 million in gifts
Launched the Journal for Public Interest Communications, the College's first academic journal