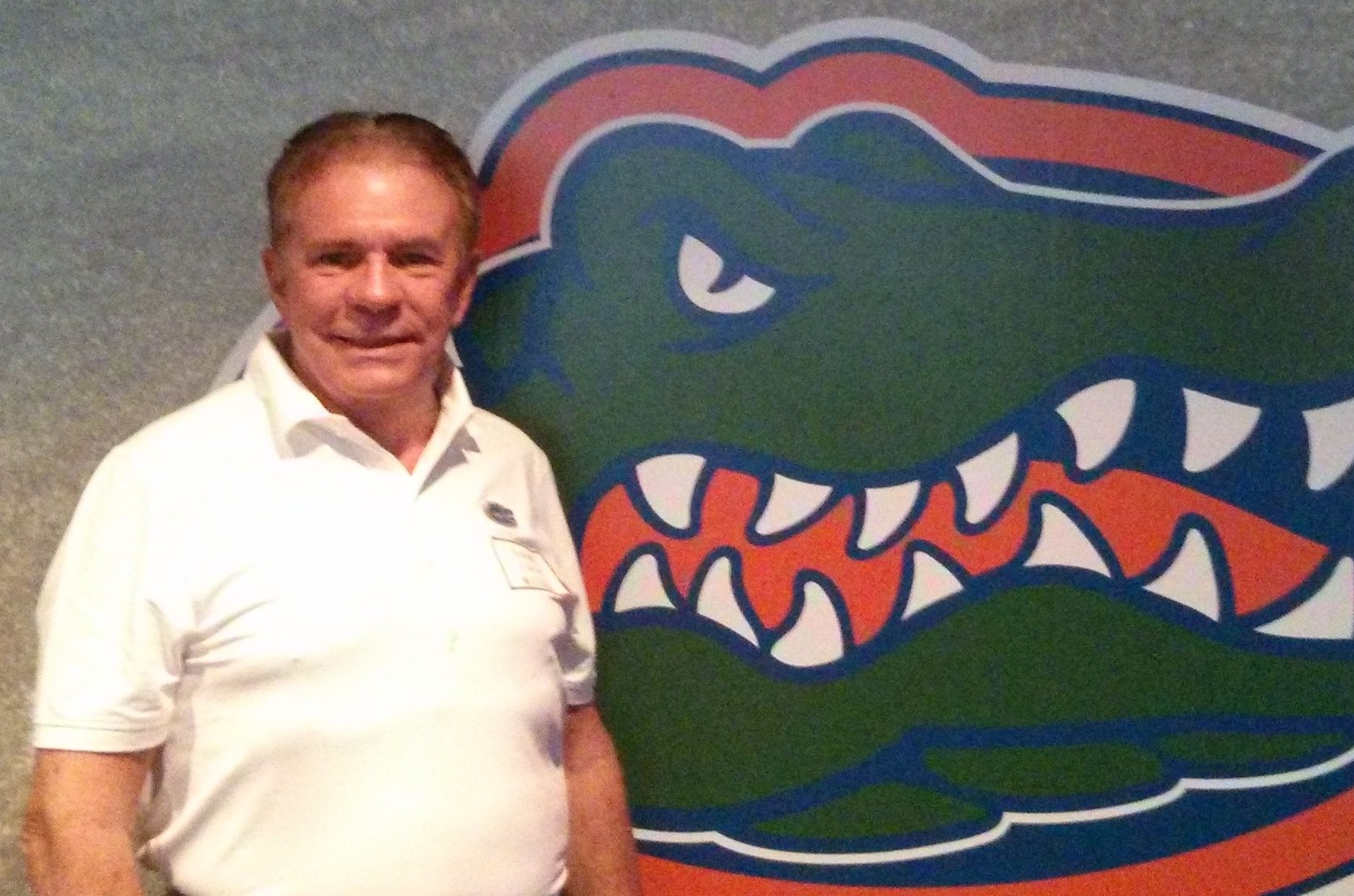 Joe Carew's Life in the Skies
Joe Carew gazed south out of his office window. On the horizon, 30,000 feet below him, the sun was setting over the Dardanelles. He saw the thin body of water that divided Turkey across two continents—on the one side, Europe, the other Asia—and thought about the events of the Trojan Wars, the Ottoman Empire and WW I's Battle of Gallipoli that had unfolded on its banks over the centuries.
"You are basically looking at a part of the world that is significant in its history and you have an opportunity to view that landscape from high above," said Carew, a commercial airline pilot who graduated from CJC with an advertising degree in 1967. "I've often felt that I have the greatest office window in the world."
With his retirement from United Airlines in 2005, Carew said he now has time to reflect on his life from that bird's eye perspective. His career took flight, he said, with an advertising assignment in his junior year at UF.
Carew was born in Miami, an only child of only children. His parents came from generations of Irish and Italian immigrants who, with little formal education, eked out a living working with their hands. They were determined to give their son a university education because they saw it as a path to a good job with a measure of financial security. His father, a carpenter and later a homebuilder, and mother worked diligently to save and pay for him to attend the University of Florida. "I was very fortunate that they invested in me, so that I could be the fruit of their endeavors," Carew said.
It wasn't until his sophomore year, after taking an advertising elective, that he gravitated toward communications, drawn to aspects of storytelling and writing. He found that advertising let him express himself without the deadline pressure of journalism.
"I was horrible at short-term deadlines," Carew laughed.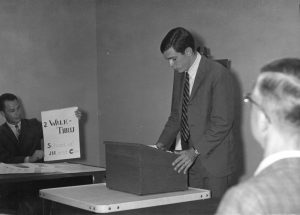 A junior-year course requirement to complete an observation period in a professional setting brought him real-world experience shadowing a Gainesville Sun advertising representative. One day, he tagged along on a cold call to a new aviation training and aircraft service company at the Gainesville Airport. The company didn't have much of an advertising budget, but agreed to some small print ads.
Later, as Carew ran the ad proof over to the company, he struck up a relationship with the owners. Eventually, he gathered the courage to ask them if they would participate in his senior-year course assignment–to create a complete advertising package for a company, using their aviation company as the "client"–and they agreed.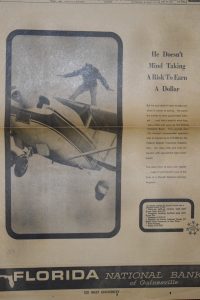 As the "client's" work progressed, the company owners were so impressed by Carew's work and keen interest and enthusiasm that when the semester came to a close they offered to exchange flying lessons for continued real-world ad work during his final semester. Since childhood, he had been fascinated with pilots and flying so he eagerly accepted the offer. That final semester in 1967 started Carew down the path to what became more than 20,000 hours in an airplane cockpit.
"I graduated in December, 1967 with a degree in advertising and an FAA-qualified pilot's license."
And the rest, as they say, is history. Well, not quite.
At the time the Vietnam War was ongoing and the Selective Service draft for military conscription was in effect and looming for male graduates of the University. Having a college degree and pilot's license in hand, Carew applied to the military services for officer training and the possibility of qualifying for military flight training.
Two months after graduation, Carew's military career began at Officer Candidate School at Quantico, Virginia where he was commissioned a second lieutenant in the U.S. Marine Corps. After completing infantry platoon officer training, he landed orders to the flight-training program at Pensacola's Naval Air Station. In May of 1970, Carew earned his wings as a Naval Aviator.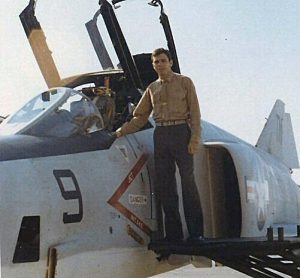 His first fleet assignment had him piloting the RF-4, the reconnaissance version of the McDonnell F-4 Phantom II, a top of-the-line supersonic jet fighter of the era. In late 1971, when Carew was due to receive overseas orders, diplomatic efforts led to a winding down of the war. The U.S. was lowering troop levels in Vietnam and the Marines moved some squadrons to bases in Japan to reduce combat flight operations. Overseas flight assignments diminished. "I was looking at a staff job flying a desk." said Carew, a grim prospect for a pilot.
Fortunately, he had friends at Marine Corps Headquarters who told him the Navy was looking for Navy or Marine pilots available for flight instructor duty back in Pensacola. "When they asked if I would volunteer I said, 'You bet!'" Carew said. "I had the great good fortune to be assigned to a training squadron I'd been a student in two and a half years before and found that I really enjoyed teaching."
He spent two years in Florida until another reduction in military force released him from active duty.
"I met some extraordinary people and very talented aviators," Carew said of his final active duty years. "Naval Aviators are not only Navy pilots but also Marine Corps pilots and Coast Guard pilots–all wear Navy wings of gold. The integrated teamwork it took among these fellow aviators to accomplish our serious work as military pilots, given our various backgrounds, was a special, rewarding experience."
He continued to fly in the Marine Corps Reserve in Dallas for two years when he made his move to piloting with commercial airlines. Braniff International Airways snapped him up in 1975. The airline initially served the Midwestern U.S., Mexico, Central and South America before expanding into Asia and Europe. In 1982, due to over expansion with the arrival of airline deregulation and high jet fuel prices, the 50 plus-year-old airline declared bankruptcy and temporarily folded its doors.
The airline re-organized and had a brief resurgence between 1984-1989, during which the head of the pilots' union asked Carew to create and edit an advocacy publication for pilots. The goal of the publication was to inform and unite the pilots as they prepared to enter into contract negotiations.
"It was a chance to dust off my degree," Carew said. "I don't know how they found out I had a communications degree, but the effort, while challenging, was effective."
Carew in the cockpit of a United Boeing 777 in 2005, returning to Chicago from Osaka, Japan.
Soon after Braniff Airlines shuttered for good in 1989, Carew began a 15-year career with United Airlines, flying mostly international routes to include flights to every continent except Australia and Antarctic.

And Carew never strayed far from Gator Nation. In 1983, while living in Dallas he happened to see a classified ad in the Dallas Morning News asking for help forming a Dallas-based UF Gator Club. Together with another CJC graduate, Mary Looney, B.S. Journalism 1970, and 13 other UF alumni, he began the Dallas-Fort Worth Gator Club. Today, the Club serves more than 4,000 Gators in the area.

Carew said his career has given him countless experiences beyond the common place, including the chance to learn about the world's people, history, art and architecture. He contributes much of his success to lucky breaks or happenstance but, over the years, his record shows the effects of the enthusiasm for his work, an open-minded attitude and teamwork.

It all started with his parent's investment in him, which opened the door to unique lifetime memories, including visiting cities and experiencing cultures across the globe. The best way he could honor them, Carew said, was to create the Joseph H. Carew Family Endowment with a bequest of $800,000, which will provide scholarships for CJC advertising students.

"There's really no way to repay my parents and forebears except to acknowledge and honor them" he said. "And a way to honor them is to do something perpetual, and part of that is to describe the opportunity my parents gave to me. On my limb of the family tree, I'm the first person to get a university education. I wanted to provide an opportunity for a student in need, perhaps someone very much like myself, to receive an education and be given a chance to pursue his or her own career dreams and aspirations."

He added, "In remembering my family by means of this gift I am hoping the recipient will, by extension, realize they join us as extended family and in remembrance and thanks, 'pay it forward'."

This profile was written by Denise Trunk Krigbaum, B.S. Journalism 1997.

Posted: June 26, 2018

​