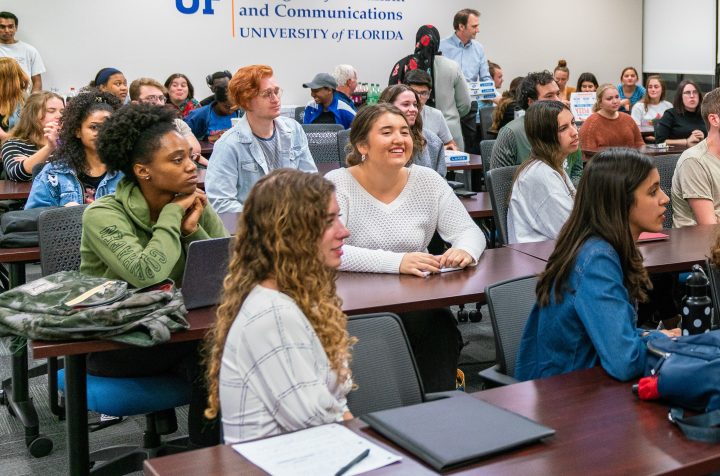 STUDENT ORGANIZATIONS
Find out information about our student organizations by clicking on their web addresses listed below:
Atrium magazine, named after the open space in Weimer Hall, is a student-produced publication that aims to tell true stories from Florida that are deeply reported and artfully told. It focuses on issues important or unique to the Sunshine State — from the environment to changing demographics to racial justice.  The magazine tells stories of people whose voices have not always been heard and of communities that have been underserved. Compelling stories told both in print and through visual journalism.
Link: atriummag.org
Association for Women in Sports Media (AWSM)
AWSM@Florida is UF's collegiate chapter of the Association for Women in Sports Media. AWSM@Florida hopes to help students get their dream job in sports, whether it's journalism, public or media relations, advertising, broadcast or anything in between. AWSM@Florida provides all kinds of resources for students to get involved in the field, such as speakers, events and networking opportunities with fellow sports-loving students and media professionals.
Email: ufawsm@gmail.com
Florida Magazine Student Association
The Florida Magazine Student Association is a professional organization committed to serving the employment, educational and social needs of UF students interested in pursing a career in magazine writing, editing, designing and/or publishing. FMSA connects its members to editors of local and national publications and to the faculty from the College of Journalism and Communications. Members have the opportunity to take part in resume critique workshops every semester, listen to inspiring guest speakers and gain a greater knowledge of the magazine world.
We are also a chapter of Ed2010, a community of young, eager magazine editors and magazine-editor wannabes who want to learn more about the industry and obtain editing positions.
HCA was founded in 1992. Its membership encompasses students from all college majors. Based on total Hispanic enrollment, HCA has the highest percentage of participation of any of the college's minority student media organizations.
Link: Hispanic Communicators Association on Facebook
Email: hcaatuf@gmail.com
A national honor society for journalism-focused students those excelling in academics. You will be invited based on your GPA.
The Gator Chapter of the National Association of Black Journalists, formerly known as the Association of Black Communicators, was founded in 1980 as the first minority organization in the University of Florida's College of Journalism and Communications. The name was changed in 2012 to reflect its relationship with the National Association of Black Journalists the professional parent organization. In its 32 years of excellence, it has promoted and encouraged journalism and communications as a career for students while gaining operational support from the college's Knight Division.
Link: nabjgators.wordpress.com
Email: gatornabj@gmail.com
(NLGJA) Association of LGBTQ Journalists
The National Lesbian & Gay Journalists Association – The Association of LGBTQ Journalists is an organization of journalists, media professionals, educators and students who work within the news industry to foster fair and accurate coverage of lesbian, gay, bisexual and transgender issues. NLGJA opposes all forms of workplace bias and provides professional development for its members.
The purpose and mission of NLGJA's student chapter is to provide a network for LGBTQ student journalists and their allies, both on campus and in the greater Gainesville community
Email: NLGJAGator@gmail.com
The National Press Photographers Association is dedicated to the advancement of photojournalism, its creation, editing and distribution, in all news media. NPPA encourages photojournalists to reflect high standards of quality in their professional performance and in their personal code of ethics. NPPA vigorously promotes freedom of the press in all its forms. To this end, NPPA provides continuing educational programs and fraternalism without bias, as we support and acknowledge the best the profession has to offer. Our members include still and television photographers, editors, students and representatives of businesses that serve the photojournalism industry.
Orange & Blue is a student-run general-interest magazine produced by students enrolled in JOU4447c Applied Magazines at the University of Florida. The magazine is published twice a year. Inside, you can find spotlights on interesting finds in the local Gainesville area, including art, sports and news.
Link: oandbmagazine.wordpress.com
Advisor: Nicole Irving
The Society of Professional Journalists is the leading national organization of student and professional journalists. Membership is open to all students who intend to embark on a career in media. The national organization is especially active in journalism ethics, freedom of information and cases involving the rights of reporters.
Link: UF SPJ on Facebook
Email: floridaspj@gmail.com
Sparks is an Asian American student-run magazine that aims to share the Asian American Pacific Islander experience with the community while elevating student voices.
Link: Sparks at  UF on Facebook
Email: ufsparks.editor@gmail.com
Sports Media Society
UF Sports Media Society promotes development and cohesion among students interested in sports journalism, communication, and information within the College of Journalism and Communications.
Advisor: Eric Esterline
Tower Yearbook
Tower Yearbook captures moments and documents memories for the University of Florida community. UF's first yearbook was published in 1910, originally titled "The Seminole." When the book made its revival years later, it was given a new, gator-centric name: The Tower. The Tower Yearbooks were consistently made up until 2008, where the book went on another hiatus. Tower made its return to campus in 2020 and the team now has a staff of photographers, interviewers, designers, and writers.
Facebook
Instagram
Email: uftoweryearbook@gmail.com
Advisor: Ted Spiker