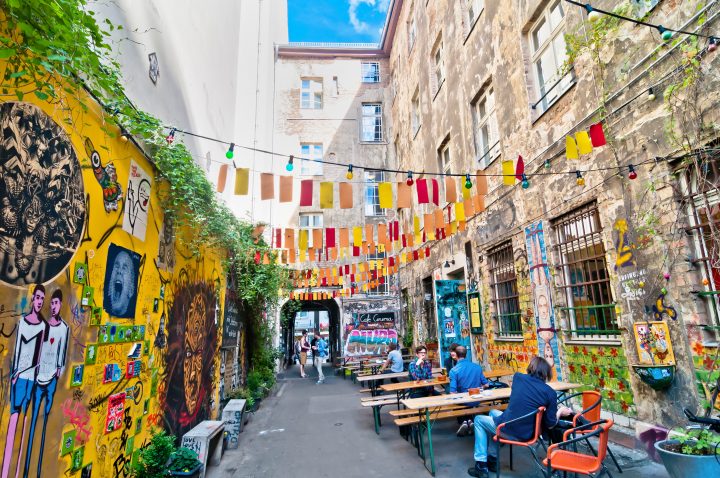 About the Program
Frequently Asked Questions
How much does it cost to participate? Information on fees, financial aid and registration is available here: https://www.jou.ufl.edu/berlin-study-abroad/berlin-study-abroad-fees/.
Where do I sign up? Can non-UF students go? The program is open to all majors with a minimum 2.5 GPA in good standing. The formal application process is handled through UF's International Center, at the Hub. First come, first served. The trip has been a sell-out the previous 15 years. Non-UF university students are eligible for the course but must submit the right application material, including transcripts. For details, contact UFIC Study Abroad Adviser Jess Mercier (352) 294-3335, or write her at: jmercier@ufic.ufl.edu.
What are the exact dates and times? Everyone should be at the hotel in Berlin ready to leave for a 7 p.m. dinner on May 13. Most people will depart the U.S. on overnight flights on May 12. The farewell group dinner is May 25, which is our last night at the hotel. You check-out on the morning of May 26. – DO NOT BUY YOUR PLANE TICKET until all 15 participants have been confirmed as "accepted" for the course, just in case the course is cancelled.
Where will I stay? Students will stay at the Transit Loft Hotel with 3-5 students per room. Rooms are clean but plain. There is no pool, room phone, gym, laundry, restaurant or air conditioning. The weather is usually mild, though, 55 to 75 degrees in May. Your group room has three to five single beds, and one bathroom with shower, sink and toilet.
What is not included in the program price? Airfare is not included because some students will travel on frequent-flyer miles, or may choose to spend extra time in Europe after the course. Checking in September 2021, round-trip airfare from Orlando was about $800. Any meals besides breakfasts at the hotel and the five group meals are not included in the program fee. Extra tours, phone calls, souvenirs, taxis, extra Internet access, etc., are your responsibility.
What is the course structure? We don't hold formal class meetings, but meet one-on-one and in small groups often. No scheduled course activities start before 11 a.m. most days. Everyone will photograph and report on a particular subject during the stay in Berlin. Days in May are long — sun-up is about 4:30 a.m. and it sets at 9:45 p.m. Everyone turns 20-30 photographs and a 90-second audio track into a picture story to be presented as a slideshow. Also, you'll write a 150-word story for publishing in the book of projects. Everyone submits 10 good random photographs and updates a blog on the trip. Click here to see the 2019 website of students' projects. Material will be submitted in Berlin. Professor Freeman will provide individual coaching of your work and we will have small group sessions to talk about everyone's progress in a supportive manner. The course will be listed as "off-book" for Summer A. Do not sign up for JOU4930 or MMC6905 online. Official enrollment will happen through the Department of Journalism office, after your application is approved by Prof. Freeman and the UFIC.
Will I get academic credits for participating?  Yes. Participants will receive three credits.
Is there any "free time?" Yes, we usually have one required group activity most days, but many hours during the evening are free-time. Coursework is of course your first responsibility, not tourism.  You'll do best by remaining flexible and open to changes. Again, all coursework is due before you depart Berlin.
Do we meet as a class before the trip? Yes, once the group is finalized, Professor Freeman will set up two meetings at UF before the spring 2022 semester ends. We'll discuss possible themes, hear briefly about the history of Berlin and discuss expectations plus software. You'll also discuss movies to watch. We won't meet formally after the trip, but you must maintain email contact.
Is there photo equipment available? Yes. Canon Digital Rebel T7i's are also available for check-out at no charge.  They must be returned by the official end of Summer A.
Can students go on the trip if they haven't taken a photo class? Yes, you'll get a crash course in quality photojournalism to produce your  "words and pictures" packages.
Do I need to know German? No, many of Berlin's citizens are fluent in English.
When is final payment due? Final payment of fees is due in late March.  However, all prospective travelers should complete applications with the non-refundable $425 deposit according to UFIC guidelines within seven days of sign-up. The $425 is applied toward the program fee total; it is not extra. The remaining fees are due no later than 45 days prior to departure. If you receive financial aid, you can defer payment until it disburses. Deferment decisions will be based on the amount of aid to be received.
Where do I get a passport? First, apply now and beat the summer rush. It could take up to six weeks. Look up the campus Post Office which handles passport applications, including photos. The web link for passports is: http://www.travel.state.gov/
Any health concerns? Food and water are safe; Berlin is a major cosmopolitan city. One drawback compared to U.S. standards is that smokers seem to outnumber non-smokers.
What about laptops and Internet access? The hotel's internet has been spotty, so you might plan on spending 30-euros ($35) on-site for a reliable Telekom connection during your stay. A laptop is needed for the trip, or at least a good friend with a laptop to complete the coursework.
Cell phones — Prices have dropped over the past couple years. You can generally buy $10/day plans to Roam Like Home (including data) from AT&T and Verizon. Check with your provider for details.
How do I sign up again?! – Start here: "Berlin Journalism" – Do not sign-up unless you know you can afford the trip in May. If you sign up, but drop before May, that causes problems. Acceptance is "first come, first serve" once you pay your $425 deposit and complete the application.