Chris Kirschner: Born a Bronx Bomber and Now Living the Dream
By Alexis Mundy, Journalism senior, Ellie Shreve, Journalism/Sports Media senior, and Perry Yalkut, B.S. Journalism/Sports Media 2023
In a CJCxNYC and Sports@CJC collaboration,13 CJC students traveled to New York City from July 17 – 22, 2023, to learn about and from sports media professionals. Among other assignments and activities, students met with CJC alumni. This is one of five alumni profiles written during this experience.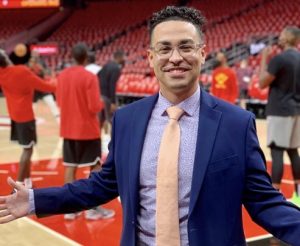 While he always envisioned himself playing third base for his hometown team, the New York Yankees, University of Florida College of Journalism and Communications alumnus Chris Kirschner, B.S. Journalism 2014, found his true calling in the press box.
Kirschner grew up watching the Yankees play, dreaming of one day taking the field with a glove in hand and a jersey on his back. Now, when Kirschner steps foot on the stadium grass, it's with a notepad, phone, recorder and computer. Instead of fielding ground balls, line drives and pop flies, Kirschner covers the Yankees' breaking news, crafts features, composes columns related to the team, and deep dives into analytical pieces sparking the interests of the Yankees fan base.
The Bronx native has been reporting on the Pinstripes for The Athletic since July 2022.
"I get paid to watch the Yankees on a day-to-day basis, which is really cool," Kirschner, 31, said. "Covering the Yankees was always a dream of mine. "Now I'm living out a dream."
With his childhood home located a few miles from Yankee Stadium, Kirschner has a unique ability to understand and connect with the fan base of the 27-time World Series champions.
"I know what Yankees fans are talking about," Kirschner said. "I know what they would be interested in. Sometimes you have to do stuff that the fans want to hear because your job is to engage with the audience."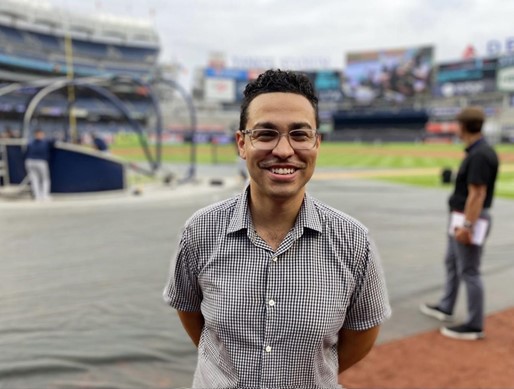 The moment Kirschner saw his dreams become reality was Aug. 1, 2022, when he went to Yankee Stadium for the first time as a beat reporter covering the team. Trading in Yankees gear for a media credential, Kirschner realized he was living the dream.
"Just walking in the clubhouse and going on the field, that was really cool," he said. "Getting to meet [Yankees' right fielder] Aaron Judge, all of that was really cool because I grew up watching the team."
During his childhood in the Bronx, Kirschner consistently attended Yankees games with his dad. Then at 8 years old, his family moved to Jacksonville, Florida, where Kirschner continued to watch his beloved Bronx Bombers swing it during spring training at George M. Steinbrenner Field in Tampa or against the Tampa Bay Rays at Tropicana Field in St. Petersburg, Florida.
From taking his son to Yankees games, to reading every one of his articles, Kirschner's dad has always been there. Whether offering praise or constructive criticism, Chris knows his father, Glenn Kirschner, will be there to support him every step of the way. After learning of his acceptance as the Yankees beat reporter for The Athletic, Chris's first phone call was to his dad, who was ecstatic for his son to be covering their lifelong favorite team.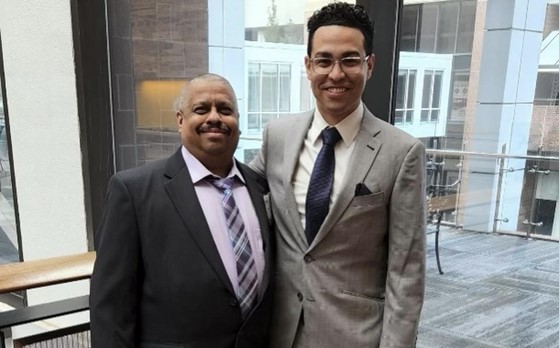 "I'm living out my dream and he's a big reason for that dream," the younger Kirschner said. "To have him get that phone call was really cool."
Being a Florida Gator
Kirschner had his sights set on entering the field of sports journalism as early as eighth grade.
"I knew I wanted to go into journalism when math started getting hard," he joked.
Growing up, Kirschner read a lot of books and discovered his passion for writing as a way to express himself. He took notice of his writing skills at a young age. Even before that, he was aware of the effect sports, particularly baseball, had on his identity.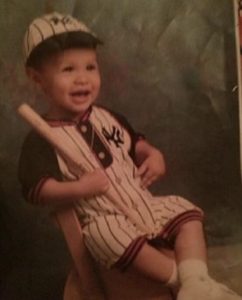 "I've been a sports fan my entire life," he said. "Growing up in New York, there's so many sports teams around. Baseball is my favorite sport. I played growing up and all throughout high school. Sports has always been a big part of who I am and it's always been a passion of mine."
A lifelong love of sports combined with a way with words led Kirschner to pursue sports journalism at UF, which he chose for its established journalism program.
During his time at UF, Kirschner focused his studies on broadcast journalism with the goal of becoming an on-air talent. He was featured on WUFT-TV PBS Channel 5 during the 5 p.m. hour as a sports anchor from his sophomore to senior year. He was also a College of Journalism and Communications ambassador, as well as a member of the Delta Tau Delta fraternity.
Kirschner's time at UF was greatly influenced by WUFT-TV News Manager Mark Leeps and ESPN Gainesville Sports Director Steve Russell. Kirschner said Russell was a mentor to him during his time at Florida because he gave him opportunities at both WUFT and WRUF-AM, the ESPN Gainesville sports radio station.
As a Journalism major, Kirschner wasn't supposed to be on the air. However, Leeps saw something in the ambitious sophomore and gave Kirschner a chance when he came knocking at his door asking for one.
"I was the first journalism major to be on air for WUFT," Kirschner shared.
"He was our first crossover and brought with him great ambition and storytelling/writing skills, as you'll see in this piece, which was recognized in multiple contests," Leeps said.
Kirschner came in as an apprentice during the Spring 2013 semester, then anchored in a two-person rotation in Fall 2013 and again in Spring 2014.
"He was a great addition to the team and opened our eyes to journalism students who just needed some TV cross-training," Leeps said. "We had him audition and I thought he was a natural when I first saw him on camera."
While Kirschner may have focused his talents on breaking into the TV industry, his writing skills would shine through.
"Chris was a hard worker, and he was flexible," Russell said. "He did want to do television first, but then he found another niche. He was somebody who would do whatever work was asked of him. He was a really good writer, I could see that early on. Some people that come through here, you can kind of see talent and you can see it develop. He had that, he had that early. One of the great things about him was the more that he did, you could kind of see where his talent was going because he kept growing when he was here. Not only is he really good in the field, but he's a really good dude, too."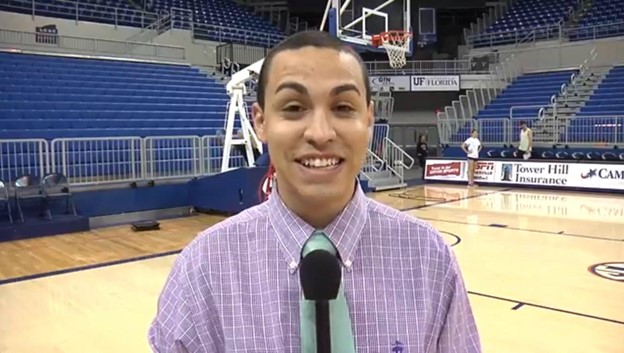 Kirschner's talent was not only recognized by UF faculty, but also by multiple awards he won during college, including the Edward R. Murrow Award for small-market television writing and a radio package award from the National Broadcast Society.
While at UF, Kirschner worked hard to build his experience, always putting his dreams first.
"I made sure I was interning every single summer," he said. "I stayed back for spring break because it gave me more opportunities to do more on-air work. I was able to anchor every day that week."
Kirschner stressed the importance of taking advantage of every opportunity in college. "The experience is what's going to carry you after school," he shared.
Alongside experience, Kirschner said his biggest takeaway from UF was building his network while in school.
"You have a lot of really talented people around," he said. "It's important to build those relationships with your classmates, with your professors, with the alumni who come into the program. Journalism is a really tough industry to get involved with, so you need people to vouch for you and fight for you. Otherwise, it will be really hard to crack this industry and stay in this industry."
Upon graduation, Kirschner's dedication to crafting his skills had paid off. He graduated with two job offers in television, but he quickly found that writing offered the more promising path. Working in the Atlanta area, Kirschner built his reporting skills as a multimedia sports reporter for Cox Media Group, breaking news on some of the country's top college football prospects and building relationships with some of the nation's best teams, including the University of Alabama Crimson Tide.
Additionally, Kirschner worked for NBA TV as a highlights editor. While mastering his skills in multimedia, he had the opportunity to write shot sheets for on-air NBA talent like Ernie Johnson, Shaquille O'Neal and Charles Barkley. After building a name for himself in the city, he was approached by The Athletic with an offer for the Atlanta Hawks beat.
Flying High With the Atlanta Hawks
Kirschner joined the Hawks in 2018. At the time, the Hawks were undergoing a rebuild, with new players Trae Young, Kevin Huerter and John Collins as their rising stars. This was a relief for Kirschner's rookie season with the team, as he found making connections and watching stars develop were essential to his success.
One of Kirschner's fondest memories was covering Atlanta's 2021 deep playoff run. Against the Philadelphia 76ers, the Hawks mounted a comeback on the road in Game 7 to take the series and push their way to the Eastern Conference Finals.
"If you're working in the NBA, you're going to remember that moment," Kirschner said. "Being in the arena and feeling that level of intensity is a moment I will never forget."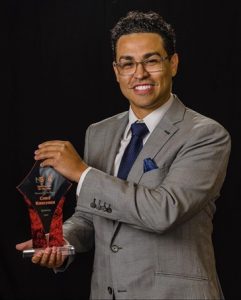 Kirschner's reporting on the Hawks earned him the 2021 Georgia Sportswriter of the Year award from the National Sports Media Association. Kirschner is the first person of color to ever win the award.
While covering the NBA, Kirschner learned the importance of star power. Aside from covering superstars and players he grew up watching, including LeBron James, Chris Paul and Vince Carter, he found that players have a powerful voice.
"With basketball, players are more involved with society and what's actually going on with the world, especially during the time I was covering," he said. "With George Floyd and all those things that happened, especially within the Black community, both NBA and WNBA players were on the front lines."
Kirschner spoke on the importance of knowing how to cover difficult topics, as they may intersect with sports. He expressed that being equipped with the necessary skills and knowledge to navigate sensitive issues is crucial for journalists. His time at UF provided opportunities to engage in hands-on reporting and honed his ability to report on challenging topics with empathy and an awareness of various perspectives.
Behind The Scenes
When Kirschner is not in the press box at Yankee Stadium, he can be found strolling through Central Park with Jeter. No, not "Captain Clutch" himself, but his 6-year-old lab mix, whom he named after his favorite baseball player.
Living just two blocks away from the famed park, Kirschner goes there to find peace. He regularly takes Jeter to play fetch in the park, as an escape from the bustling streets of the city.
"It's kind of an oasis in a big city," he said. "It's a peaceful place in a city with so much noise."
Posted: August 20, 2023
Category: Alumni Profiles, College News, Sports, Sports Media Alumni
Tagged as: Chris Kirschner