Two Students Share Journey from UFCJC High School Program to Co-Anchors on WUFT
By Michelle Holder, B.S. Journalism 2022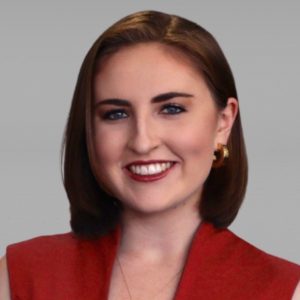 University of Florida College of Journalism and Communications (UFCJC) students Ophelie Jacobson, senior Journalism and Political Science double major, and Serra Sowers, rising senior Journalism and Sustainability Studies double major, in 2018 were roommates as high-school students at the College's Summer Media Institute (SMI). Five years later, they were co-anchoring the First at Five broadcast news show once a week.
At SMI, a five-night, six-day workshop in which high school students are immersed in journalism and communications, students take part in an assortment of electives and specializations and learn from award-winning UF instructors and industry stalwarts.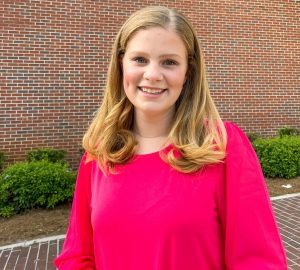 Both Jacobson and Sowers were involved with their high school journalism programs. Sowers worked at the high school newspaper and Jacobson at her school's TV news station.
Sowers was seeking to improve her writing and photography skills, when she found SMI and enrolled in the program. Jacobson said she found the program online and enrolled to explore her passion for broadcast news.
Sowers and Jacobson met on the first day of the program. Through the random roommate pairing, they shared a dorm room together.
"It was just really fun to have a friend there, and we hit it off from the first moment that we met," Jacobson said.
At SMI, Sowers took the writing specialization, which was taught by Journalism Master Lecturer Mike Foley. When she first met him, she recalled he was wearing a Pokémon t-shirt. "He's very much the same person as he is during the class, so it was really nice to get that exposure and learn from him," Sowers said.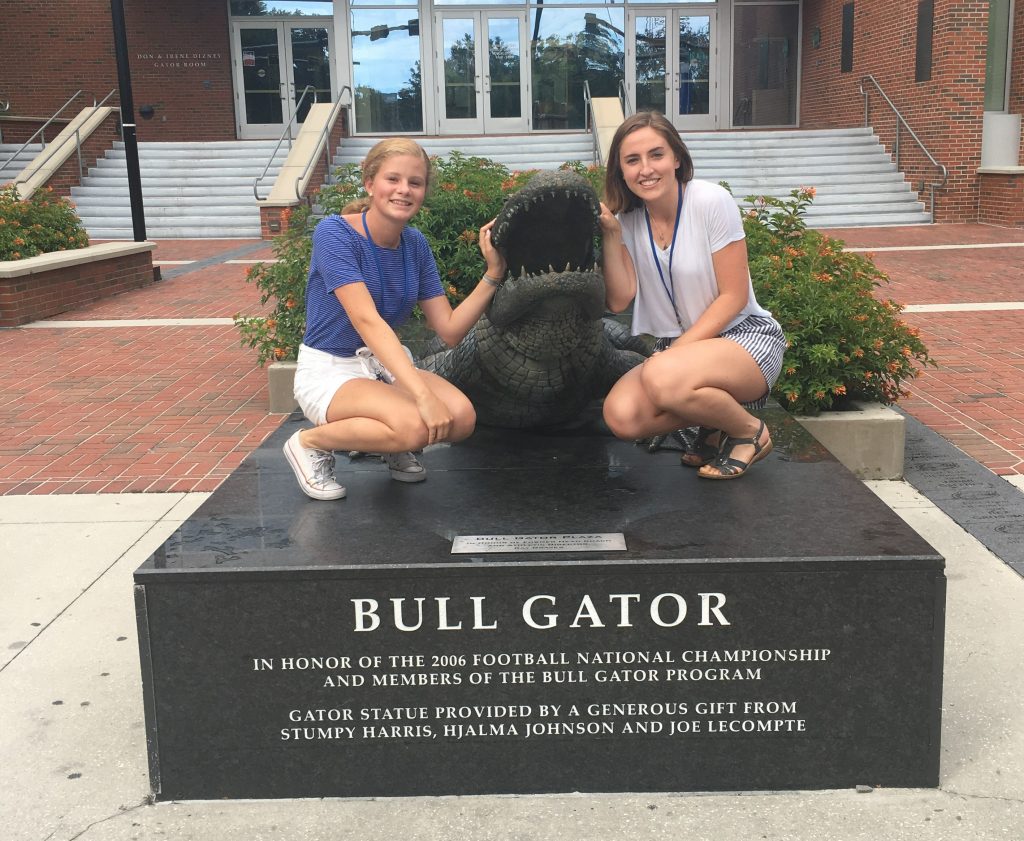 She wrote about five articles that week, some of which were published on the SMI website. One story she reported on covered a speech by motivational speaker Darren DeLacroix.
One of her favorite memories from SMI was exploring campus and bowling at the Reitz Union.
Jacobson completed the broadcast journalism track at SMI and created a package reporting on the hot weather during that week. She learned the broadcast basics from Journalism Lecturer Harrison Hove, and also met Spanish-language News Manager Dania Alexandrino, both who would be important mentors to her as a student at UFCJC.
"Coming to that Summer Media Institute really solidified the fact and the idea that I want to pursue a career in broadcast journalism," Jacobson shared.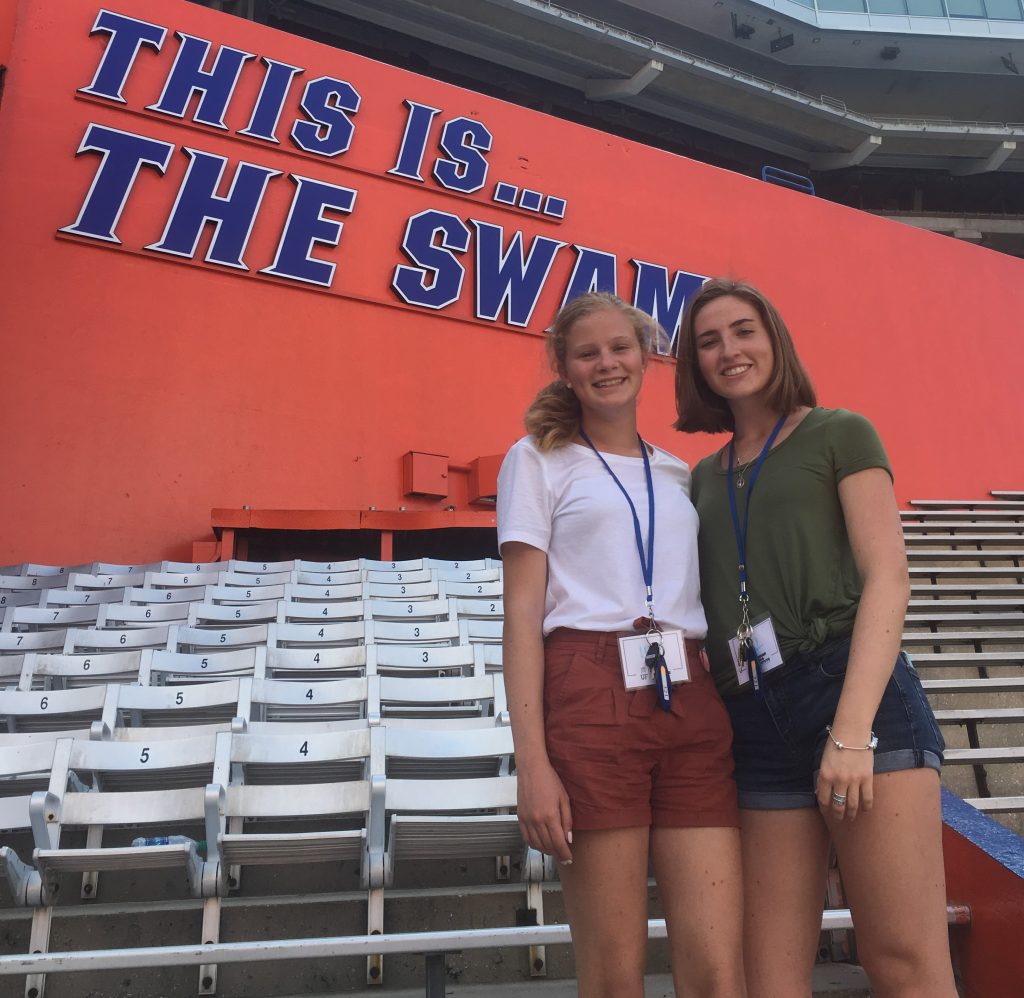 Since they were a year apart in high school, Jacobson enrolled at UF in fall of 2019, while Sowers enrolled a year later in fall of 2020.
Jacobson was born in Boston, grew up in San Diego, and then moved to Melbourne, Florida, the summer before her junior year of high school. Throughout her time at UFCJC, she worked extensively in the Innovation News Center (INC) as a producer, reporter and anchor, and was involved with UFCJC's Spanish-language news operation Noticias WUFT. She also worked as a digital production assistant at a FOX News Digital part-time alongside her school and extracurriculars. She received the Journalism Department's WJXT-TV Award in 2023, the top honor for students in television news.
Sowers also worked on radio, digital and the TV news team for WUFT, in addition to reporting for The Independent Florida Alligator. Her radio clips have been heard on NPR and WGCU, a PBS station in Fort Myers, Florida.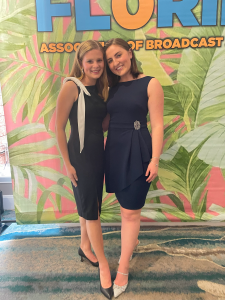 Both Jacobson and Sowers were honored with 2023 Florida Association of Broadcast Journalists awards. Jacobson won first place in the Television News Anchor college competition for "Hurricanes to Homecoming." Sowers won best Radio Newscast in the professional competition for "The Point Newscast," and first place for Newscast and Radio News Anchor in the college competition.
Originally from Longwood, Florida, Sowers grew up visiting Wekiva Springs State Park, where she developed an interest in environment and policy.  That interest led her to also major in environmental and sustainability studies.
While the two always kept in touch with each other throughout the years, it wasn't until they were paired up for First at Five weekday newscast on Fridays that their relationship strengthened into a true friendship. By complete coincidence, they were selected for the same co-anchor timeslots.
"I was working in the INC, and Ophelie been anchoring for several semesters, so we would always see each other around," Sowers said. "And then we started working together on the same stories and projects when we were anchoring."
A typical day for the First at Five broadcast starts in the early afternoon with a 2:30 p.m. meeting and a 4 p.m. rehearsal. At 5 p.m., the news broadcast starts.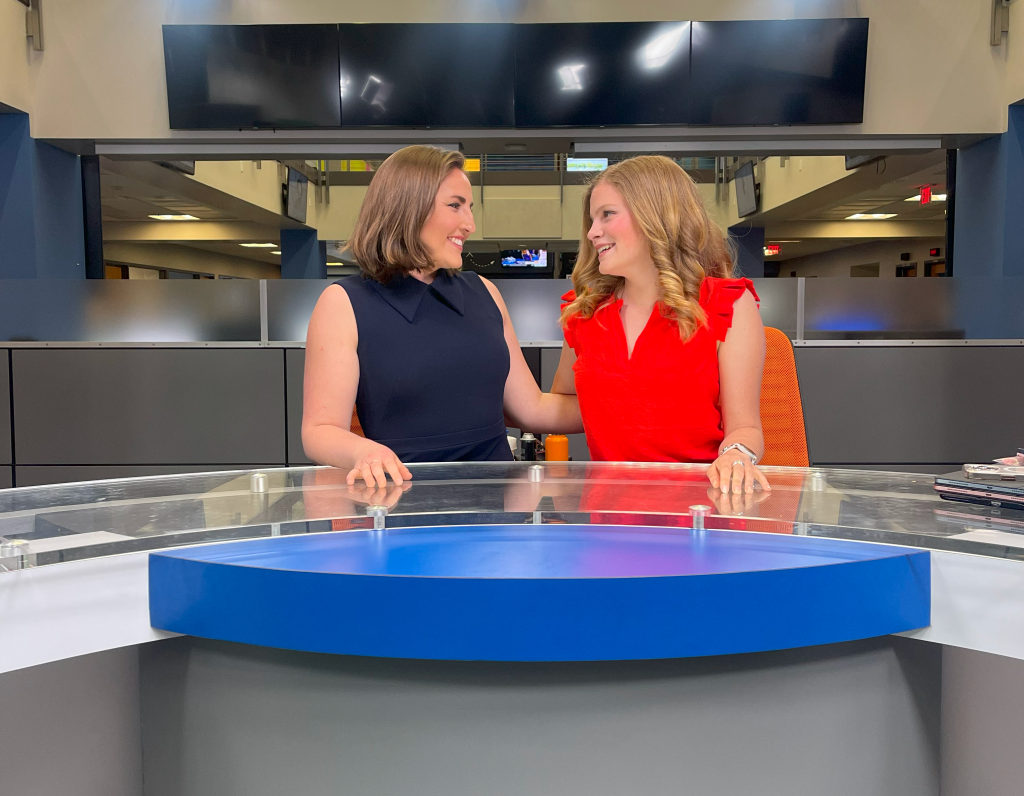 "One of my favorite moments is when we get to go off script and chat in between stories," Jacobson shared. "Those are unscripted moments where you can really see the friendship that we have off camera come alive on camera."
Jacobson will be graduating this May and become a reporter at KCCI 8 News in Des Moines, Iowa, in June.
"I was able to look at the time that I had five years ago as a senior in high school, to now being a senior in college," Jacobson said. "I saw how these people have transformed me, how these experiences have helped me and how I've grown through it all."
This summer Sowers will be interning at WESH-2 News in Orlando.
"It's a full-circle moment. The station I have been watching my entire life is where I'll be having my first professional internship," she said. "All these full-circle moments are really helping me realize that I'm in the right place."
Both Jacobson and Sowers's experiences at SMI and UFCJC had a major impact on their journalism careers and skills.
"High schoolers should definitely take advantage of SMI; attend and meet their future friends and colleagues there," Sowers said. "It's really an excellent program for students who think they might be interested in journalism to learn about all kinds of writing."
SMI '23 will be held June 25 to 30 in Gainesville. Registration for SMI '23 is now open.
Posted: May 2, 2023
Category: College News, Profiles, Student News