Clay Calvert Comments on Libel Lawsuit Filed by Fox News' Lachlan Murdoch Against Australian News Outlet
Clay Calvert, director of the Marion B. Brechner First Amendment Project and Brechner Eminent Scholar in Mass Communication at the University of Florida College of Journalism and Communications, is quoted in Erik's Wemple's opinion column "Lachlan Murdoch's Pathetic Attack on an Australian News Outlet" published in The Washington Post on Aug. 25.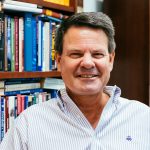 The story focuses on a libel lawsuit filed by Lachlan Murdoch, son of Rupert Murdoch, against Australian news outlet Crikey. The news outlet alleged in an opinion piece that Fox News illegally conspired with Donald Trump to incite a mob to march on the Capitol to prevent confirmation of the outcome of the 2020 U.S. presidential election.
Calvert commented on the wording used in the lawsuit. "The phrases 'unhinged traitor' and 'unindicted co-conspirator' are used in a loose, figurative sense to headline a column that is labeled 'analysis,'" said Calvert. "No reasonable reader would take them as assertions of literal facts regarding criminal activity."
Posted: August 26, 2022
Category: College News, Marion B. Brechner First Amendment Project News
Tagged as: Clay Calvert, Marion B. Brechner First Amendment Project