Moni Basu Receives 2022 FMA Charlie Award for a story on Florida's Dixie Highway
Moni Basu, University of Florida College of Journalism and Communications (UFCJC) Michael and Linda Connelly Lecturer for Narrative Nonfiction, has received a 2022 Charlie Award from the Florida Magazine Association for "Drivin' the Dixie Highway: How Florida's Dream Road Turned to Dust."
The story, published in Flamingo magazine on Nov. 1, 2021, chronicled Basu's journey along Florida's Dixie Highway, one of the oldest roads in America.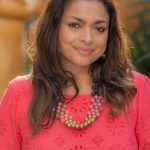 Her work was selected in the Best Writing Feature – Consumer: Circulation 20K and Under category. In 2021, Basu won a Charlie Award in the same category for her feature "In Search of Spirits in Cassadaga: A Writer Unlocks the Truths of this Mystical Community, Its Energy Healers and the Supernatural."
The Charlie Awards, named in honor of Charles G. "Charlie" Wellborn Jr., a 1958 graduate and later a professor at UFCJC, recognizes the best work from Florida magazine publishers, writers, editors, artists, photographers, printers and marketers.
The award was presented at the Florida Media Conference on Aug. 5 in Ponte Vedra, Florida.
Posted: August 12, 2022
Category: College News
Tagged as: FMA Charlie Awards, Moni Basu