Two UFCJC Alumni Receive 2021 National SPJ Mark of Excellence Honors
Two University of Florida College of Journalism and Communications (UFCJC) alumni, Chris O'Brien, B.S. Telecommunication 2021, and Zachary Huber, B.S. Journalism 2021, have received honors in the National 2021 Society of Professional Journalists (SPJ) Mark of Excellence (MOE) Awards competition. The awards honor the best collegiate work published or broadcast in 2021.
O'Brien received first place in TV Feature Reporting for "Never Say Never" featuring the story of an adaptive athlete in Ocala, Florida. Huber won second place in Sports Writing for "Former Florida Women's Basketball Players Detail Abuse Under Coach Newbauer."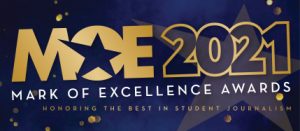 O'Brien's "Never Say Never" won the TV Feature Reporting and the Broadcast/Online Feature Videography awards in the SPJ MOE Region 3 competition and Huber won the Sports Writing award, which automatically placed them into the national competition. In all, UFCJC student journalists, alumni and WUFT News staff received 13 first place honors and were ten finalists in the regional competition, which comprises Alabama, Florida, Georgia, South Carolina, Puerto Rico, and the U.S. Virgin Islands.
National winners will be recognized at the Media Fest22 convention in Washington, D.C. from Oct. 27-30.
Posted: June 21, 2022
Category: Alumni News, College News, Student News
Tagged as: 2021 SPJ Mark of Excellence Awards, Chris O'Brien, Zachary Huber