Clay Calvert Comments on a Possible Attempt to Rollback First Amendment Protections for Media Defendants in Defamation Cases
Clay Calvert, director of the Marion B. Brechner First Amendment Project and Brechner Eminent Scholar in Mass Communication at the University of Florida College of Journalism and Communications, is quoted in "DeSantis' Office Considered a Bill to Target Libel Laws, Records Show" published in the Orlando Sentinel on May 18.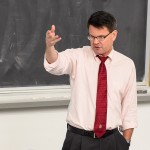 The article focuses on a proposal created by a Gov. DeSantis staff member seeking to challenge First Amendment protections for the news media and to make it easier for high-profile people to win defamation lawsuits. The bill was never filed during the 2022 session.
According to Calvert, the proposal taps into a broader conservative campaign against mainstream news organizations.
"Many Republicans, including former President Donald Trump, are upset about the current state of libel law," said Calvert. "They believe it is too friendly to media defendants."
Posted: May 18, 2022
Category: College News, Marion B. Brechner First Amendment Project News
Tagged as: Clay Calvert, Marion B. Brechner First Amendment Project