Moni Basu Comments on the Dangers Journalists Face When Reporting in War Zones
Moni Basu, University of Florida College of Journalism and Communications Michael and Linda Connelly Lecturer for Narrative Nonfiction, is quoted in "War Correspondents Discuss Dangers Journalists Face in Ukraine" posted on wptv.com, the West Palm Beach, Florida NBC affiliate on March 14.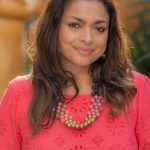 The story features interviews with two war correspondents: Basu, who reported on the war in Iraq, and Cody Weddle, who was abducted during unrest in Venezuela, about the dangers and risks they encountered while on the job.
Basu said hearing about the death of photographer and filmmaker Brent Renaud near Kyiv was a reminder of the risks of covering wars.
"When you are in a situation like the one in Ukraine, the adrenaline takes over," Basu said. "You don't have time to stop and think how dangerous the area might be. I have lost friends, journalist friends, in war zones."
"The American people need to understand what a great risk that world press is taking right now in getting the news out of Ukraine," she said. "We wouldn't see the faces of the Ukrainians who are the exodus that is taking place right now. We wouldn't know the hardships they are facing. We wouldn't know any of it if it weren't for the journalists on the ground."
Posted: March 16, 2022
Category: College News
Tagged as: Moni Basu