Juliana Fernandes Authors Article on Educating Consumers on Deception in Green Advertising
Juliana Fernandes, University of Florida College of Journalism and Communications Advertising assistant professor, is the author of "Educating Consumers to Fight Deception in Green Advertising," published in the March 2022 American Academy of Advertising (AAA) Newsletter and posted on medium.com on March 7.
Fernandes discusses the impact of packaging information and advertising claims about items available for purchase in grocery stores or online. Highly involved consumers may spend a good amount of time trying to understand claims on the package or in ads.
"Some of these claims are highly technical and challenging to understand, even to knowledge-able and involved consumers. This lack of understanding is accentuated in categories that inherently rely on complex claims, such as green advertising, resulting in greenwashing," writes Fernandes. "Greenwashing involves misleading consumers about the environmental practices of a company or the environmental attributes and benefits of a product or service."
She adds, "The use of claims that are not part of consumers' jargon may lead to a myriad of negative outcomes for consumers and the green market in general."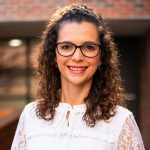 Fernandes partnered with Sigal Segev to study the content of green advertising claims in magazines from 2009 to 2010. They replicated a study done in the 1990s that found a great deal of deception in these types of ads. In the new study, they found that green ads had more acceptable claims, but about 37% of the claims were still categorized as deceptive, showing that more work needs to be done to avoid misleading consumers.
"This study further inspired us to investigate green advertising claims, but from a consumer perspective," writes Fernandes. "While previous research has investigated the effects of such claims on consumers' attitudes and behaviors, we wanted to uncover ways to make consumers more knowledgeable about these types of claims, giving them the ability to spot deception."
She adds, "This study explored the extent to which non-expert consumers can detect green-washing in promotional claims and differentiate between deceptive and acceptable claims.  This can be achieved by using simple messages that involve a description of what people do not do right (i.e., an inaction) instead of what they do wrong (i.e., an action). Such messages feel less threatening and are more effective in motivating green behaviors."
Posted: March 10, 2022
Category: College News
Tagged as: Juliana Fernandes