Clay Calvert's Book "Voyeur Nation" is Quoted in Viral Tik Tok Cheater Video Story
A book by Clay Calvert, director of the Marion B. Brechner First Amendment Project and Brechner Eminent Scholar in Mass Communication at the University of Florida College of Journalism and Communications, was referenced in "My Relationship Was Derailed by a Stranger's Viral Tik Tok" published on refinery29.com on Sept. 7.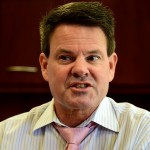 The article focuses on a new TikTok trend that involves users publicizing information they've overheard from strangers talking about their cheating acts in public places. Calvert's book, Voyeur Nation: Media, Privacy, and Peering in Modern Culture, traces the evolution and forces driving "voyeurism value" by watching intimate moments, private facts and secrets and the airing of dirty laundry.
According to Dr. Maja Golf Papez,"Outing cheaters brings exposure to the TikTok Robin Hoods, traffic to the platforms and voyeuristic pleasure to the viewers. A target's embarrassing, angry, sad or nonchalant responses to being exposed are music to the ears of what Clay Calvert (2004) called a 'voyeur nation'. These are people obsessed with consuming information about others' apparently real and unguarded lives."
Posted: September 9, 2021
Category: College News, Marion B. Brechner First Amendment Project News
Tagged as: Clay Calvert, Marion B. Brechner First Amendment Project