Sylvia Chan-Olmsted Comments on Consumer Expectations in the Digital Media Landscape
Sylvia Chan-Olmsted, University of Florida College of Journalism and Communications Media Production, Management, and Technology professor and Media Consumer Research director, is quoted in "Turning Up the Volume on Customer Experience is Key to the Future of the Media industry," a white paper by Harvard Business Review Analytic Services published on April 23.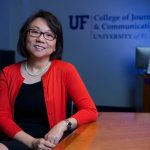 The paper examines how media organizations are competing for consumer attention within the entire media landscape. Digital transformation has put unprecedented power into the hands of consumers, who are now able to conjure most any product or service to their fingertips on demand.
"Today's 20-year-olds have no patience for inferior, non-responsive experiences," said Chan-Olmsted. "It's got to be easy to use and responsive and very fluid, requiring the least possible effort. As soon as you require effort, the expectation is raised."
Posted: September 2, 2021
Category: College News
Tagged as: Digital Media, Harvard Business Review, Sylvia Chan-Olmsted