Diane McFarlin Named to the 2021 Florida Newspaper Hall of Fame
Diane McFarlin, University of Florida College of Journalism and Communications (UFCJC) Emeritus Dean and Scholar, has been named to the 2021 Florida Newspaper Hall of Fame, in recognition of her outstanding service in the field of newspaper journalism in Florida.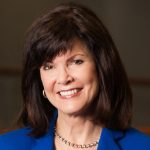 McFarlin, B.S. Journalism 1976 and 1999 Hall of Fame inductee, retired from UFCJC in December 2020 after an eight-year tenure as Dean. Under her leadership, the College's enrollment increased 14 percent with some 3,000 undergraduate and graduate students today. UFCJC grew to 72 research and professional faculty, plus 20 teaching professionals in its world-class immersion venues. During this period, the College's endowment increased 25 percent to more than $70 million.
Prior to being named Dean, she had spent more than three decades at the Sarasota (Florida) Herald-Tribune, including nine as Executive Editor and 13 as President and Publisher. She also was Executive Editor of the Gainesville Sun early in her career. While at the Herald-Tribune, she launched the Season of Sharing charitable fund, which has raised more than $24 million to provide crisis funding to families on the brink of homelessness.
In March 2019, McFarlin was named the Scripps Howard Awards College Administrator of the Year and in September 2019, Florida Trend magazine named her to its Florida 500 list, highlighting the 500 most influential executives throughout the state.
The award will be presented during the Florida Media Conference on July 16 in Sarasota.
Posted: July 16, 2021
Category: Alumni News, College News, Diversity News
Tagged as: Diane McFarlin, Florida Newspaper Hall of Fame