Harrison Hove Receives UF Center for Teaching Excellence Rising Star Award
Harrison Hove, University of Florida College of Journalism and Communications (UFCJC) Journalism lecturer, is the recipient of a 2021 Rising Star Award from the UF Center for Teaching Excellence.
The Rising Star Awards recognize faculty for their commitment to ongoing educational improvements and excellence. Rising Star faculty participate in professional development of teaching activities through the Center.
Hove was honored for receiving a Passport to Great Teaching for New Faculty Certificate, being a Global Learning Institute Participant, a #NoWallsTeaching Champion and for recording a podcast for the Center.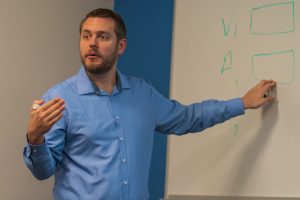 His accomplishments include teaching broadcast journalism courses where his students practice knowledge at the highest level. He oversees student content creation from timed writings to daily television reporting and special projects. Working to build classroom community virtually, he has restructured an online broadcast writing course with themes of interactivity and active learning. He also successfully internationalized the curriculum in his TV news reporting course, encouraging students to highlight stories in marginalized and internationalized communities.
Hove also was named UFCJC Teacher of the Year for the 2020-21 academic year and received a UF Division Three Superior Accomplishment Award. In October, he was nominated for a UF Career Influencer Award.
The awards will be presented at the virtual UF Center for Teaching Excellence Interface Teaching Conference on April 14 and 15.  Roxane Coche, CJC Sports Journalism and Communication associate director and Telecommunication assistant professor, received the award in 2019.
Posted: April 5, 2021
Category: Alumni News, College News
Tagged as: 2021 UF Rising Star Award, Harrison Hove