Brechner Center Podcast Preview Episode Features College Athlete Gag Policies
The Brechner Center for Freedom of Information today launched a new podcast series called "Why Don't We Know," focusing on the lack of transparency from educational institutions. The podcast is produced by Pulitzer Prize-winning journalist Sara Ganim, currently Hearst Fellow at the Center.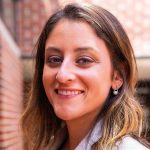 A preview of the first episode, "More Than Just a Code of Silence," features Ramogi Huma, the executive director of the National College Players Association, and Brechner Center Director Frank LoMonte, discussing how college athletic departments restrain athletes from speaking to the public and press, and the First Amendment issues raised by such "gag" policies.
According to Ganim, "College athletes who attend public universities are terrified about speaking out about controversial topics because they don't want to appear disloyal and because they believe they could lose their place on the team if they break the rules and talk to the press without permission. If you are a college athlete at a public institution in the U.S. that school is considered a government agency funded by taxpayer dollars and that brings certain protections, number one being the First Amendment."
The podcast episodes will dive deep into data accompanied by the real stories. More episodes will be available in August and will continue throughout the fall.
Posted: July 2, 2020
Category: Brechner Center, College News
Tagged as: Brechner Center for Freedom of Information, Frank LoMonte, Sara Ganim, Why Don't We Know